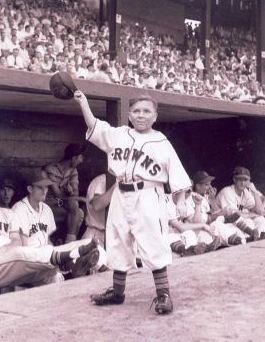 Eddie Gaedel, not a former Red Sock
Yesterday we looked at the tallest players in Red Sox history so for symmetry's sake today we will look down to the shortest players. These are the Lilliputians of Landsdowne…
When you are this short, do you even need to crouch behind the plate? Pytlak was acquired along with future All Star pitcher Joe Dobson from the Cleveland Indians before the '41 season. After one subpar season behind the dish, he was summoned by Uncle Sam to infiltrate the Nazi Army as America's littlest soldier, slipping undetected under Nazi watch. When he returned to baseball in 1945 at 36 years old, he had lost all baseball ability, playing in just 13 more games over two seasons posting an OPS of .335.
What the short group may lack in talent over the tall group, they are certainly making up for it in awesome names. Besides Joe
"My Name Is" Judge
, the next three shortest first basemen were named Stuffy, Squanto, and Dolph! Judge was actually a really good player for a long time with the Washington Senators, finishing in the top 10 in MVP voting twice. By the time he came to Boston, he was 39 years old, but still gave the team average performance in 123 at bats spread over two seasons.
Who was positive that this spot was going to go to Dustin Pedroia? Everybody's favorite little scrapper was actually 19th shortest on this list with a generous official height of 5'9", but I'd be shocked if he was more than 5'7" in real life, which would place him in a big tie for 6th. Second base is the land of the little guys, where all the hustliest, scrappiest, tenacious, big-hearted dirt dogs make their living. Brady scooted around the keystone for just one season, but I'll bet his tiny stature and even tinier batting average made him a favorite of crotchety old sports journalists. Because the great thing about small guys is that they really know how to do the little things that you just can't capture in a box score. Pun intended.
What is the etymology of the word "shortstop"? It appears to be a relic of the way the position used to be played as more of a short fielder type drifting between the infield and outfield. Sadly it has nothing to do with it being the position where they put the shortest players. Welch played just one tiny season for a very bad Red Sox team that won only 47 games. He was so bad that he couldn't even beat out starting shortstop Dud Lee, who hit just .224 that season. Were it not for Welch, this spot could have been occupied by a player nicknamed Pee-Wee or Rabbit. Wouldn't life be more fun if Pedroia had a nickname like Pee-Wee or Rabbit? How about Petey Rabbit?
Are you sensing a pattern yet? So far our most recent mite last played in 1946. As anybody who has ever helped their younger sister move into the third floor of an old house in a city will attest, people used to be a lot smaller. Foster played for the Sox in the roaring twenties at the tail end of a solid, but unspectacular career. He also played for the Red Sox team that had the most players 5'7" or under with five (Foster, Brady, Ed Chaplin, Hal Deviney, Jigger Statz).
Left field: Gene Rye, 5'6", 1931
Another shorty, another cup of coffee guy. This is getting sad. Most sports fans love rooting for the little guy who overcomes long odds to flash some measure of success and help his team to some grand victory. But if you exclusively root for the little guy you are going to root for some really bad ball players. I'll take the hulking giants who launch 500 foot homers over the scrappers who lay down a well timed bunt any day. Rye had 7 hits in his 39 at bats and was never heard from again. He also played for the Red Sox when they wore
pin stripes
so that is extra sad.
Center field: Nemo Leibold, 5'6" 1921-1923
One year removed from the shortest team in Sox history, Leibold was traded to the Red Sox for Hall of Famer Harry Hooper. Little Nemo was a nice ball player but he was certainly not worthy of being traded for a future Hall of Famer. He had a little bit of success but Nemo was unable to FIND his way at the plate and was waived two years later. Sorry for the obvious Pixar joke. This collection of players have been very uninteresting and difficult to write about.
Right field: Skinny Graham, 5'7" 1934-1935
I've said it before (in this post and elsewhere) we need player nicknames back! What about Josh "The Texecutioner" Beckett? Carl "Swag" Crawford? Kevin "Handsome" Youkilis? Andrew "Shaggy" Miller? Jon "The Head Hunter" Lester? J.D. "The Greatest Show On Earth" Drew? OK, maybe that last one wouldn't fly, but let's get back to the days of apt nicknames that aren't just combos of first and last names (A Gone) or abbreviated last names (Buch, Pedey, Lack, Youk, Ells).
Pitcher: Frank Morrissey, 5'4" 1901
Was Frank the great grandfather of depressing crooner Morrissey? Was the source of his sadness that his flesh and blood was so small and only played 2 major league seasons despite an exquisite 2.23 ERA? Was "Our Frank" written in his honor? The answers to these questions may never be known. As the final player on this list, Morrissey is also the smallest. Therefore he is granted the Golden Eckstein award for his over-sized heart, determination and ability to make grown men weep.
On our entire list of the shortest players in Red Sox history, we have one player who could be considered an All Star (Joe Judge) and 5 cup of coffee players. In a competition between tall and short there would be absolutely no contest. It may be fun to find the next Rudy or Eckstein, but if you want a winning team it is probably better to look up than look down. Not to be a heightist, but these days the tall rule the earth.