I'm going to get this out of the way quick; like pulling off a band-aid:

The Patriots haven't played Kansas City since opening day 2008 when......eughhhhh. Damn you Bernard Pollard.

We've all heard the Chiefs dubbed "Patriots: West" or some other stupid monicker
to
ackno
wle
dge the connections between the franchises. This has always slightly annoyed me. The most obvious
o
f these connections is of course the architect - Scott Pioli - who together with Belichick built the foundation for the most successful franchise of the century. Another well known tie is K.C. Defe
nsive Coordinator Romeo Crennell, who
served in the same capacity in New England. Romeo had a brief stop as head coach in Cleveland between N.E. and K.C. - where he didn't yell, smile, blink, nod, move or
possibly e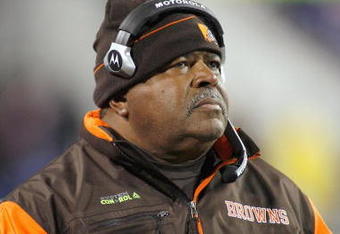 ven breath once while on camera. Of course there was Matt Cassell as well, but he got hurt last week and is likely t
o miss the remainder of the season. Those are some strong connections - GM, starting QB and D.C. - but I never thought it warranted the nickname, until I read how deep the ties are between the two teams. Seriously? 12 people with significant roles on both teams, including the
one and only O.T.I.S.? I remember loving Otis Smith as a kid because of his gangsta introduction and continued on after his huge INT in the first Super Bowl vs. St. Louis (in his hometown of 'Nawlins). Anywa
y, after reading that article I came to appreciate just how much the Chiefs are Patriots West. And that doesn't even take into consideration Brian Waters, who played 12 years with K.C. and is now dominating opposing D-linemen for the Pats. Ok, enough about that, onto the game.

I suppose that with Pioli running the show, it's no surprise that Kansas City is home to many of my favorite non-Patriots in the league. A brief run down on some of them in no particular order:

CB Brandon Flowers: In my opinion Flowers is the most underrated corner in the NFL. He has the skills to shut down the best receivers in the game and big play ability. Look for him to be matched up on Welker for most of the game Monday (although he has been limited in practice with a back injury)

OLB Tamba Hali: He will be the most important player on Kansas City tonight. One of the best pass rushers in the league, and a scary scary man to have chasing Tom. The only thing against him is that he is a Penn State alum. If he gets caught "bear hugging" Brady tonight can we add that to the charges against Sandusky? Let's just hope that he didn't learn too much from Jerry and keeps his clothes on. And that it's not in the shower...Too far?


S Eric Berry: Last years First Round draft pick had an outstanding rookie year, creating an elite tandem with Flowers - but is on IR this year, so we won't get to see him tonight.

RB Jamaal Charles: Possibly the most explosive RB in the NFL and a legitimate threat to score eve

r

y time he touches the ball. He runs with a similar patient style to Chris Johnson, you know, back when CJ2K was good. Also disappointingly on IR; although I'm very happy the Pats D won't have to worry about him tonight

Sabby Piscitelli: I don't know much about him other than that he has a kick ass name

Not among my favorites, but two other players of note: LB Derrick Johnson has upped his level of play over the past few seasons, showing the talent that made him the Chiefs #1 pick back in '05. Also DE Tyson Jackson plays very consistently on the edge. He was Pioli's first ever pick with K.C. and fits the prototypical DE mold of Ty Warren/Big Rich.

When healthy, this K.C. defense is loaded with talent and when matched with Romeo's coaching can be a formidable foe. Fortunately they're pretty banged up tonight, which should make Tom & Co.'s job a bit easier. The Pats have been a bit sluggish in the running game over the past few games, so lets hope they jump out to an early lead and get Benny and Ridley back on track.

Offensively, Kansas City will be led by the one and only Tyler Palko. Some of Palko's career highlights include: playing in the UFL and CFL, and
once upon a time
being cut by a team named the California Redwoods. No word from my research team yet if he played in the XFL to complete the trifecta before his NFL debut tonight. Of course he is going up against the banged up (as if they weren't struggling enough already) Pats secondary, so we may be comparing Palko to Joe Montana come tomorrow morning. His one claim to fame is that he beat out Joe Flacco for the starting job at Pitt, leading to Flacco's transfer to Delaware. I'm not all too concerned about this match up, but the Chiefs do have some good receivers - Dwayne Bowe has been a beast the past few seasons and rookie Jonathan Baldwin has looked impressive of late, with
catches like this.
One area not to overlook is the return game - Javier Arenas and Dexter McCluster are big play threats and could be the equalizer that K.C. needs to stay in the game tonight. The Patriots have a mind boggling 18 players on their injury report this week; many of them key special teams contributors - so this bears watching. Although, they did hold the Jets top ranked return team in check last week, so maybe I just don't know what I'm talking about.

This game has all the makings of a traditional "trap game" - coming of a huge road win against the Jets and looking forward to a tough match up at the Eagles. Excitement amongst fans seems to be lower than normal, and a win assumed to be assured. But this is where Belichick shows why he's better than all other coaches; keeping his team focused against an inferior opponent and not letting an opportunity to get a firm grasp on the AFC East slip away. The defense should continue to improve against a struggling Chiefs offense, and New England will look to re-establish their ground game in what should be a relatively easy victory.

Oh, also that is not a typo in the title - just homage to one of my favorite commercials from when I was a kid. Every time I see K.C., I can't help but think of that commercial and laugh.



Patriots 34 - Chiefs 17