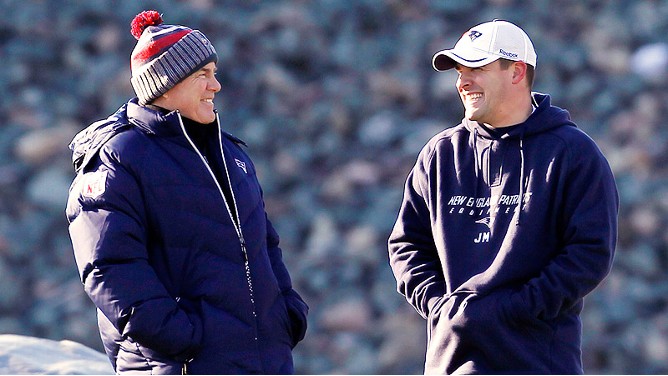 When word first broke that Patriots Offensive Coordinator Bill O'Brien was the leading candidate for the head coaching vacancy at Sandusky State, I couldn't help but think - here we go again. Ever since the Pats run of Super Bowls from '01-'04, there has been a steady drain of top talent; both on and off the field. I don't need to name all the names, but the Offensive Coordinator position is one worth discussion. Following the 2004 season, Charlie Weis left to being his failed tenure as Head Coach at Notre Dame. That move was bittersweet for me at the time, because as much as I hated to see Charlie leave, I was ecstatic about his prospects with ND. Following the Patriots, my next love in football is the Irish. I grew up watching games with my grandfather, and my uncle even got me a subscription to their newspaper - the Blue & Gold. When they sucked, it made losing Charlie even worse.

The Patriots quickly filled the (rather large) vacancy with an Offensive Assistant that few had heard of before in Josh McDaniels. In 2005, the Patriots offense struggled compared to the success they had seen under Weis. Granted they had just about the single worst WR corps ever assembled, but still. 2006 showed some signs of progress, but with limited talent and further growing pains, McDaniels was still no Charlie. Then along came 2007 and the new year brought some new toys in Randy and Wes - and a whole slew of new NFL records. Charlie who? All was right in the world until the game that shall not be discussed. Expectations were as high as could be to start 2008, for all of 0:08 seconds. Without Tom, McDaniels continued to shine - keeping the Pats offense running in high gear with a QB who hadn't started a game since High School.

The excitement of Brady's return in 2009 was tempered by the departure of his friend and new star of the coaching staff to Denver. Speculation was abound on who would replace McDaniels, and the answer was...well...no one, technically speaking. Belichick would not name an Offensive Coordinator, but another relatively unknown Offensive Assistant would be calling the plays, this time it was to be Bill O'Brien. The offense regressed as a whole in 2009, which of course can be partially contributed to Brady's recovery - but what I'll remember most about that season is how well their putrid performance against Baltimore in the playoffs summed up the offense. I remember reading several articles after that game in which Baltimore defenders boasted how they knew what plays were coming before the snap for the majority of the game. Were they stealing signs? No, we ruined that for everyone. The Pats offense was the single worst thing an offense can be - predictable. And one dimensional. This O'Brien kid sucks.

In an effort to shorten this article, I'll assume anyone reading this article knows about the past two seasons. The early season trade of Randy in 2010, that O'Brien and the offense overcame to go 14-2; the emergence of the studliest TE combo in all of football; and the continued growth and creativity of O'Briens play calling throughout 2011. Now it was time for him to leave. And so it appeared a disconcerting trend was in full effect when it came to Pats Offensive Coordinators:
a.) Promote from within following departure
b.) Suck Year 1
c.) Make some progress Year 2, but not elite
d.) Be great Year 3
e.) Leave
I, for one was not excited to see who the "Next Man Up" was this time around. I mean Tom only has some many years of being the Greatest Quarterback of All Time left, so I wasn't ready to suck for two years while they broke in a new O.C..

When rumors started swirling about a possible McDaniels return, I tried to treat it the same way I do every time the Pats have two first round picks - be excited, but keep your expectations low. Very low. Then this. Then this:



So yes, I just took about 2,000 words to explain how I feel about Josh McDaniels' return and give you a history lesson you already knew, when McLovin did it in all of 6 seconds. You're the sucker who read it.