Can you believe Prince has lost weight since then?
1) Detroit Tigers
2) Kansas City Royals
3) Cleveland Indians
4) Chicago White Sox
5) Minnesota Twins
Looking Back
Last year, we predicted the White Sox would take the title on the strength of perennial power source Adam Dunn and the division's deepest rotation. While the rotation was certainly deep, it lacked the elite top talent that ultimately won the division for the Tigers (who we predicted to finish second, so not too shabby). What doomed the White Sox was Dunn, Alex Rios, Gordon Beckham and Brent Morel all getting at least 440 At Bats and all posting OBPs between .265 and .296. Yikes. A team can get away with one or maybe even two sub .300 OBPs in their everyday lineup, but not 4 and not from defensive sieves like Dunn, Rios and Morel. We did nail the 10th Man (Joaquin Benoit with a 2.95 ERA over 61 innings for the Tigers) and the player to watch under 25 (Billy Butler with a .822 OPS in 159 games for the Ryoals). Our other big whiff? The surprising second place Indians were our pick to bring up the rear.
Looking Ahead
I mentioned in my last post that this will be baseball's most boring division this year. The reason is that I don't see any realistic contenders to the Tigers for the division crown and I don't see any other team being able to challenge for a Wild Card spot even if a second Wild Card is added (when the fuck is Bud going to make a decision on this by the way?)
Coming back from last year's team that won the division by the largest margin of any division winner last year are the AL Cy Young and MVP Justin Verlander and MVP Candidate Miguel Cabrera. Those two players alone could be enough to win this division for the Tigers. They also bring back a couple young players who had breakouts last year in Austin Jackson and Alex Avila. I expect both to take a step back this year, but still be productive. I do predict they will get a mini breakout from strikeout machine Max Scherzer. Add in full seasons from Doug Fister and Delmon Young (who I think sucks, but whatever) and how can you not like this team? Oh ya, they got Prince Fielder too. I think we can write this one down in (virtual) ink.
One caveat on the Tigers: this could be an historically bad defense if they stick with their stated plan. As of today, Jim Leyland plans to play Prince at first, Miguel at third, Jhonny Peralta at short and Delmon in left. Prince is a bad first baseman. Miguel was a bad third baseman 5 years ago, the last time he played the position regularly. Peralta was a bad short stop who moved to third last year. And Delmon is probably the worst of all of them. On days when Verlander and Scherzer pitch, this shouldn't matter too much since both are high strikeout pitchers. Same with most of the bullpen. But when Fister, Rick Porcello or Jacob Turner/Andrew Oliver pitch things could get ugly. These 4 pitchers will put a lot of balls in play this year and without a reliable defense they could see a slew of extra baserunners. This can all be fixed pretty easily by putting Brandon Inge at 3rd on days when a groundball pitcher starts and Andy Dirks in left when a flyball pitcher starts.
The next three spots are kind of a crap shoot for me. I think these teams will all end up at about .500 this year, but the Indians should lead the pack. The team has assembled an
unprecedented collection of ground ball pitchers
(though Fausto Carmona could be out for the season due to his legal issues) to put in front of a decent infield defense that just got better with the addition of elite gloveman Casey Kotchman. Wouldn't it be cool if Cleveland was forced to give up its offensive current moniker and go with a rotating nickname that fit the composition of that year's teams? Wouldn't you want to buy Cleveland Worm Burners merchandise? They will also get full seasons out of promising youngsters Jason Kipnis and Lonnie Chisenhal and are hoping for better health from Grady Sizemore, Shin Soo Choo and Travis Hafner so the offense should be better this year. But it probably won't be.
The Royals are going to be a lot of "experts" break out pick this year, and for good reason. I ultimately don't think they will have enough developed talent to overcome the Tigers, let alone the Indians, but they should show flashes this year as all their minor league talent matriculates (that's a word, right?). Their talented young offense finished 6th in runs last year and returns Alex Gordon, Billy Butler, Mike Moustakas and my breakout pick for the AL, Eric Hosmer. They could also see a midseason promotion of uber prospect Wil Myers in right giving the team 5 impact bats under the age of 28. The rotation is why I think .500 is their ceiling. They made a decent trade for Jonathan Sanchez but they would need some serious improvement from "Ace" Luke Hochevar and young pitchers like Danny Duffy and Mike Montgomery would have mature quicker than they probably will if they want to contend. It will be an exciting season in beautiful Kauffman Stadium, but they will have to wait at least another year until they host a playoff game. *X-Mark's Note 2/21: I forgot to mention that the Royals under performed their expected record by 7 games last year, which gives them a little more breakout potential than I gave them. Still think they will fall short of the division, but I like them ahead of the Indians now.
The White Sox lost their best pitcher (Mark Buehrle) and second best hitter (Carlos Quentin) and yet I think they have a chance to be better than last year. Look, I would bet all three of Joe Black's testicles that Dunn, Rios and Beckham will not hit as bad as they did last year. Dunn and Rios were historically bad. Rios posted the 20th worst OBP of any player in the expansion era (since 1969) and Dunn posted the worst batting average of any player with at least 490 plate appearances ever. EVER!!! That is just impossible to repeat. The main reason I have them fourth though is because it looks like GM Kenny Williams is going to tear down the walls and start over. However, he is the most unpredictable GM this side of Ruben Amaro so I still think there is a chance they add pieces and beat last year's record.
Then there is the Twins, a team built around two former MVPs who will always have to deal with potentially career ending injuries. Justin Morneau (concussions) and Joe Mauer (knees) are expected to start the season as full time regulars. The Twins would need vintage seasons out of both to even climb out of the bottom of this top heavy division because the rest of the roster is ugly. There are very few upside players on this team. The rotation behind injury risk Francisco Liriano is low in both variability and talent. The lineup is filled with guys who don't get on base. Ben Revere and Denard Span are the only players with upside on this entire team, but even that is limited. Of course, if last year is any indication of my predictive powers...Ladies and gentlemen meet your 2012 AL Central Champions, the Minnesota Twins!
Player to Watch Over 35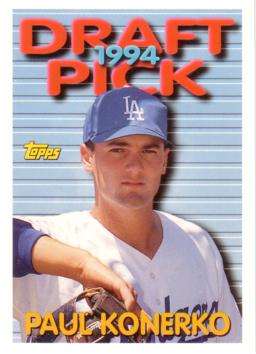 Paul Konerko, 1B, White Sox, 36 years old
I love Paul Konerko's
similar player list
through is age 35 season. On that list of ten, there are 2 Hall of Famers (Cepeda and Jackson), 3 players who have spent or will spend a long time on the Hall of Fame ballot but will ultimately never get in through the BBWAA (Murphy, McGriff, Hodges), four contemporaries who probably won't get the required 5% of Hall Votes to stay on the ballot beyond the first year (C. Lee, D. Lee, Delgado and Ortiz), and the unique case of Palmeiro. And that seems about right to me with Konerko. He seems like 20% of a Hall of Famer, which is clearly excellent. He is a very underrated player because he has played during one of the best first base eras in history. And yet, he's still made 5 All-Star teams. He has only had one season (2003, his age-27 season when most players peak) that qualifies as below average. And yet, he posted his best overall season just two seasons ago at age 34. He was traded twice in his first full season at the age of 22. And yet, he now has 396 home runs and shows little sign of slowing down at a time when guys once again age properly. If the Chicago White Sox are to contend this year, it will be on the back of their 36 year old first baseman and best player.
Y-Factor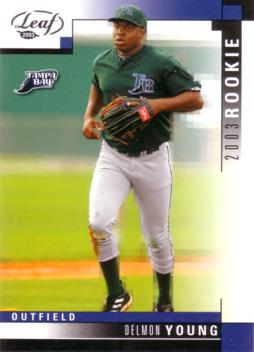 Delmon Young, LF/DH, Tigers
I mentioned this before: I think Delmon Young sucks. The former number 1 overall pick has not improved since he was 18. He was once considered an elite athlete and defender. Now, he's fat and slow and should never be allowed near a glove. He was once supposed to have elite power. He has never had more than 21 home runs in any season and is more likely to hit 10 than 20. He has never gotten on base (highest OBP is .336) and when he came over to the Tigers and was supposedly such a big piece of their post-season push, he got on base less than 30% of the time. With the combination of Prince Fielder and Miguel Cabrera in the middle of that order, I don't think it necessarily matters who they put around them, but just know that if the Tigers don't run away with this thing, Delmon Young will be Y.
Note: I was soooo tempted to have Yuniesky Betancourt in this spot, but as long as he is just a utility player he should not have too much bearing on how the Royals do this season. Of course, in Kansas City, any shit is possible.