1) Cincinnati Reds
2) St. Louis Cardinals
3) Milwaukee Brewers
4) Pittsburgh Pirates
5) Chicago Cubs
1,535,704,345) Houston Astros
Looking Back
This was my worst division winner prediction. Last year, the Cubs were my "bold prediction". This year I will have none of those. I thought a rotation led by Matt Garza would be the best in the division (barely edging out the Astros; I must have been drunk). I thought the offense would be underrated. Truthfully, I look back and can't understand what I was thinking. I seriously discounted the top 3 pitchers on the Brewers and the advantage having two MVP candidates (Braun and Fielder) in your lineup provides. I had no idea Lance Berkman was still Lance Berkman or that the Braves would defend their rightful playoff birth like the French in WWII, but that's no excuse for choosing the team with the best player in baseball to finish 4th. I will try to do better this year.
Looking Ahead
I am rolling these previews out based on how exciting I think each division will be. The only reason I don't think this division will be as exciting as others is because of it's lack of star power. Gone are Fielder and Pujols. Ryan Braun will probably be suspended for the first 50 games. Lance Berkman should go back to being Fat Elvis. The Pirates have Andrew McCutcheon, but how many of you really know much about Andrew McCutcheon. And I challenge you to name one player on the Astros besides Carlos Lee (and I bet most of you would not have even got that one). However, I do think there will be a great race at the top.
The Reds did the most to upgrade their team this year simply by not losing any MVP candidates. Instead, they added a potential number 1 pitcher that could be as good as any pitcher in the division. Mat Latos is coming over from the San Diego Padres so you may expect he may see some struggles going from the best pitchers park to one of the worst, but he's allowed a .635 OPS at home and a .637 OPS on the road. They also have the new king of the NL Central, Joey Votto, coming off a season that was almost as good as his MVP season. Jay Bruce may never be the superstar that I expected, but he should make a few All Star teams and serve as a great Jazzy Jeff to Votto's Fresh Prince. Their already deep bullpen is now deeper with the addition of lefty setup man Sean Marshall and new closer Ryan Madson. They have the feel of last year's Brewers to me, some good top end talent and enough depth to take the division. In addition, a great way to pick a team on the rise is to look at how the team performed relative to their run differential (runs scored vs. runs allowed). The Reds under performed their expected record by four wins. With the addition of three players that could add about 6-8 wins, this team could improve by double digit wins next year.
The Reds will face serious competition from the defending champion Cardinals (I'm actually dubious about this team without Pujols, but I've been burned too much by this team in the past so I'm going to pretend this is what I think). They may have lost the second best player in team history (Stan the Man had a longer career), but they may have done enough to cover up that loss. Adam Wainwright will return from Tommy John surgery and has the ability to win the Cy Young this year if he is healthy. That alone is enough to make up Pujols' production last year. The team also added Carlos Beltran who had a nice bounce back last year after struggling with injuries the previous few years. They will get a full season out of Rafael Furcal that could solve their leadoff issues and they should see improvements from Allen Craig, John Jay and playoff hero David Freese. Ultimately I think they will fall just short of the Reds because I don't think Berkman can do what he did last year and there are more injury risks on this team than any other from the old guys (Carpenter, Berkman, Holliday, Beltran, Furcal) to the young guys (Freese, Wainwright, Craig).
The Brewers will not repeat as division champs if Ryan Braun is suspended. The Brewers may even fall behind the Pirates if Ryan Braun is suspended. The team did a good job preparing for Life After Fielder with the addition of Aramis Ramirez. They still have a great front 3 in their rotation and a closer, Jon Axford, who was among the best in baseball last year. But if Ryan Braun misses the first 50 games, this team will fall too far behind the Reds, Cardinals and possibly the Pirates. Also, as the Reds under performed their expected record, the Brewers OUT performed theirs by 6 runs, which shows their talent levels were not all that different last year. Of course, one of the best ways to out perform your record is with great end of the game pitchers like the Brewers had in Axford and Francisco Rodriguez. Relief pitching is so unpredictable though when you aren't named "Mariano Rivera" that it would be foolish to predict how these two will pitch this year.
Rather than talk about the Pirates, who I think are headed for their 19th straight sub-.500 season though they will be a pesky team, I want to talk about their young star, Andrew McCutcheon. McCutcheon is a 24-year-old centerfielder who plays excellent defense, runs the bases, gets on base and hits with power. He made his first All-Star game last year on the back of a nearly .900 OPS in the first half of the season. In his 3 season career, he has posted OBPs of .365, .365 and .364. This guy should be a huge star. I was going to say that if he were playing in a big market like Boston or New York he would be. But seeing as how Reggie Smith and Ellis Burks, excellent centerfielders for the Red Sox who never got the attention they deserved, are his top comparable players, it makes a little more sense. For some reason, and I hope it's not race, this particular skill set is undervalued by the general public.
The Cubs stole Theo Epstein from us and until they pay us back I refuse to talk about them.
The Astros have the potential to put the least talented team on the field in the history of baseball. Bud Norris is the only player on this roster who could be a part of a contending Astros team years and years from now. A shitty owner that hired a shitty general manager have doomed this franchise. Luckily for the good folks of Houston, those two are gone and have been replaced by forward thinking management. This, combined with the first overall pick this year and most likely the first overall pick next year, should speed up their rebuild.
Player to Watch Over 35
Chris Carpenter, RHP, Cardinals, 37 years old
Carpenter has had a really strange career. He was a completely average pitcher his first 6 seasons with the Blue Jays (his ERA+ was 99, which means his ERA over that time was almost exactly league average). He didn't strike out many guys; he walked a few too many guys; he gave up far too many home runs. Then he was released by Toronto, picked up by St. Louis and lost a full season to Tommy John surgery. When he returned and hooked himself up to the Dave Duncan Rejuvenation 5000 he was a completely different pitcher. His strikeouts improved by over 1 per nine innings; his walks dropped by 1.5 per nine innings; his homers remained highish, but with few free passes he could survive a few solo shots. Then he had 2 seasons that placed him in the conversation for best player in baseball (including 1 Cy Young Award) before going down with another elbow injury and missing almost 2 full years. When he returned he was again one of the best pitchers in the league 3 years running. Which brings us to now, where I have reservations on whether he will remain successful. In the last ten years there have been just 7 pitchers aged 37 with ERAs more than 10% better than average, or less than 1 per year. While these are some VERY arbitrary cutoffs (why 10%? why exactly 37? why the last ten years? I don't know, this post is getting long, stop questioning my methods), I think it shows just how rare it is for a 37 year old pitcher to have an elite season. That group includes Curt Schilling's magical 2004, Pedro Martinez's last good season for the Mets and Randy Johnson's Cy Young season in 2001. Carpenter is better than some of the other players on that list (Rick Reed and Kenny Rogers) but there are also a lot of pitchers that had better careers than Carpenter that did not make it to this list (Greg Maddux, Roger Clemens pre-steroids). This makes him my player to watch over 35.
Y-Factor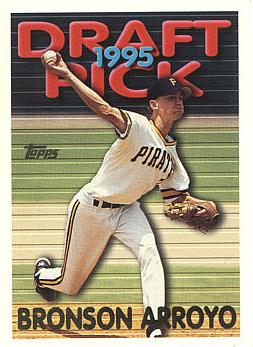 Bronson Arroyo, RHP, Reds
Your acoustic guitar isn't going to save you this season Bronson. After a completely disastrous 199 inning season last year, Arroyo should be on a shorter leash than the one around my friend Joe Black's three balls. Arroyo allowed 46 home runs for a rate of 2.1 HR per 9 innings. The rate was the 9th worst of ALL TIME (you may be surprised to learn that 7 out of the bottom 10 seasons happened after 2000). The total? 3rd worst ever. Only Bert Blyleven with 50 (in 72.2 more innings than Arroyo) and Jose Lima with 48 (who, you know, is Jose Lima) allowed more. In a season where the division could be decided by 1 or 2 games, Arroyo cannot be allowed to pitch if his gopheritis returns. I would argue he should not be allowed in the rotation (there are 5 better Reds starters I believe) barring injury. Of course, with Dusty Baker at the helm, anything is possible. If I didn't have such strict personal rules on my "Y-Factor" I would make Dusty my guy. I mentioned before that strong bullpens help teams out perform there run differentials. One of the factors in teams under performing their run differentials is a bad manager. So the Reds under performing last year was probably luck, but it could also be the man with the toothpick, who, sadly, will be in line to capture manager of the year if the Reds win the division this year.