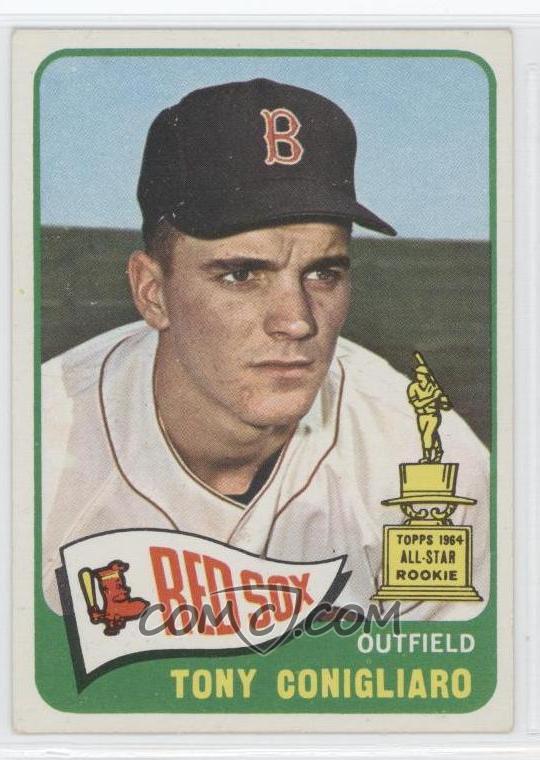 Hello again, X Mark here. In this installment of
Back to the Future
we are going to learn about a player near and dear to X Dad's heart. Let's take the WABAC machine to the year 1962. Today we will explore the career of one of baseball's great, tragic heroes. We set the WABAC controls for the town of Lynn, MA, the city of sin, (let's hope we come out the same way we went in) and just like that we are standing in the hometown of 17 year old phenom
Tony Conigliaro
…
Tony Conigliaro was as local as local can be. Born in Revere, he grew up in Lynn and attended St. Mary's High School. In 1962 at the age of 17, Conig was signed by the home town Boston Red Sox. This was 3 years before the amateur draft so the Red Sox had a unique advantage to sign the young outfielder. Sexy Boston Sports' Director of Fan Relations Sadie Sloe Gin often comments on how much more fun it would be if pro teams were comprised of mostly local athletes. Setting aside the huge disadvantage that New England teams would face these days (most talent in all sports besides hockey comes from outside this region now), this belief was 100% accurate in the 60's. After just one season in the minor leagues, in which he hit 24 home runs in only 333 at bats, Conig ascended to the majors and became an instant fan favorite because of his local connection and prodigious talents.
In 1964, Conig opened the season batting 7th and playing centerfield for the Boston Red Sox. In the second game of the season, the home opener, he homered on the first pitch he saw from White Sox starter Joe Horlen and the legend of Tony C was born. Though he struggled in his first month as the starting center fielder, he shifted to left in May and immediately went on a tear. From May 3 to July 26, Conig posted a triple slash line (AVG/OBP/SLG) of .296/.361/.553 with 18 homers and 15 doubles in 284 at bats. His right handed stroke made him perfect for taking advantage of Fenway's Green Monster. Sadly, his hot rookie season came to a screeching halt on July 26 when he broke his arm after being hit by a pitch. He would return just over a month later to continue his torrid hitting (.960 OPS in the last month), but the lost month cost him a shot at the Rookie of the Year award (he lost to Minnesota's Tony Oliva who had 84 extra base hits and a sparkling .323 average).
The following season, at just 20 years old, Tony C was installed as the Red Sox starting right fielder batting cleanup behind future Hall of Famer Carl Yastrzemski. The powerful duo led a strong Red Sox offense that finished third in the league in scoring that season, but all those runs would not be enough. The Red Sox rotation featured just one pitcher with an above average ERA and of the four starters with 30 or more starts, Earl Wilson finished with the fewest losses with 14. They were the worst staff in baseball. The team finished with 100 losses (the last Red Sox team to reach the century mark in losses) and in 9th place in the 10 team American League. Conig's considerable efforts that season were for naught.
If his rookie season thrust him onto the baseball scene, his sophomore campaign vaulted him to icon status. Despite missing time with a broken arm from being hit by a pitch for the second consecutive year, Tony C led the American League in home runs with 32. He was (and still is) the youngest home run champ ever. Here are the 10 youngest home run champs:
That list includes 6 Hall of Famers, a two time MVP winner, the Czar of Steroids and one of today's biggest superstars, but none of them did it as young as Tony C.
Stardom was a certainty for the local boy. He was handsome and bold. He
dated movie star
Mamie Van Doren. He was such a big draw that he released an album in 1965 featuring the tracks
"I Can't Get Over You"
and
"Little Red Scooter"
and he even performed on the
Merv Griffin show
(this video is a MUST WATCH). What a heart throb.
In 1966, Conig continued to be a terror for American League pitchers, but again, the Sox finished in 9th place. Then, in 1967, things started to change. The pitching staff that had finished last in the league in 1965, was now middle of the pack. Yaz and Tony C, already the leaders of a potent Red Sox offense, took their games to another level. Yaz, that season's MVP, would finish the season leading the league in home runs, RBI and average, the last player to capture the Triple Crown.
Conig was also having his best season, posting an OPS 42% better than league average and making his first All Star team. His season reached its pinnacle on July 23rd when he stroked his 100th home run, becoming the youngest player ever to reach this round number. Below is the full list of players who have reached 100 home runs before their 23rd birthday:
Generated 6/27/2011.
That's it. 4 players. 2 Hall of Famers, one future Hall of Famer and Tony C. If someone said in July of 1967 that Tony Conigliaro would not be a Hall of Famer they would probably be spit on by everyone within ear shot. Barring injury, this kid was on a meteoric rise to super stardom, possibly even challenging Ted Williams as the most prolific hitter in Red Sox history. Unfortunately for our young hero, the lords of baseball are a cruel bunch.
On August 18, 1967, the Red Sox were facing the California Angels at home. The team sat in fourth place, 3 games back of the Minnesota Twins.
Gary Bell
took the mound for the Sox that day opposing Angels starter Jack Hamilton. Hamilton was a baseball nomad. At 29 years old, he was already on his 4
th
major league team, traded to the Angels that season by the New York Mets. He was making his 14
th
start for the club that day. Tony C was in the lineup playing right field and batting 6
th
. Hamilton blew through the Sox lineup the first time through only allowing one walk and one single, to Conig, and Bell countered with blanks through the first 4 innings as well (he would take a no-hitter into the 7
th
).
In the bottom of the 4
th
, first baseman George Scott led off with a single, but was erased trying to advance to second. Then, perhaps prophetically, a smoke bomb was launched onto the field, delaying the game for 10 minutes. Centerfielder Reggie Smith followed with a fly out and it was Conig's turn to bat with 2 down and nobody on. Remember how I mentioned that he had missed time with two separate broken arms from being hit by pitches? Well Tony C was
notorious for crowding
the plate. "'He hangs over the plate as much as anyone in the league,' Hamilton said later." He also wore one of the old time helmets without ear flaps because they were not yet mandatory throughout the league.
So Conig steps to the plate to face Hamilton in his second at bat. He comes right up to the edge of the plate and leans his chiseled body over in defiance. Hamilton rears back and fires and, "'It was a squish', recalls (Rico) Petrocelli, the on-deck hitter, 'like a tomato or melon hitting the ground.'" The ball struck Congliaro square in the left cheek and he dropped to the ground as if he had been shot. Petrocelli and the team trainer ran over to his aid as he lay in a heap in the batter's box. He was carried off on a stretcher to be treated at a local hospital. He had broken bones in his face and his vision became eternally blurry. As his teammates celebrated their improbable run to the 1967 AL Pennant, Tony C was on the sidelines watching with his one good eye.
Remarkably, he would return to the Red Sox for the 1969 season and would experience the thrill of playing alongside his brother Billy in the Red Sox outfield.. After a mediocre season by his standards, Tony C opened the '70 season as a man on a mission and finished with a career high 36 home runs. Then, almost immediately after the season, he was unceremoniously traded to the Angels for young second baseman Doug Griffin (Hamilton was no longer on the club). He managed just 266 at bats that year as the eye problems finally got the best of him and he posted just a .620 OPS. For the next 3 years he toiled in the Angels farm system before receiving his release in 1974 and signed with the Red Sox during spring training of 1975. He had 57 at bats for the '75 AL Pennant winners, but was unable to positively contribute from a DH slot that was needed for youngster Jim Rice. On June 12, 1975, Tony Conigliaro played his last major league game.
Conig would go on to receive some broadcasting opportunities, never wanting to shrink from the spot light. In 1982, on his birthday, he auditioned to be an analyst for the Red Sox for WSBK-TV in Boston. Two days after his audition, his brother Billy was driving him to the airport when he suffered a massive heart attack at the age of 37 and slipped into a coma. He woke up 4 months later, but he had suffered some serious brain damage. For eight years, the once great slugger was reduced to a near vegetative state. Famous for his resolve, it was assumed that eventually the boy wonder from Lynn would pull through, but it was not to be. On February 24, 1990, Tony Conigliaro passed away of pneumonia and kidney failure at the age of 45.
Tony Conigliaro was one of the greatest young hitters the game ever saw. He was Boston's answer to Mickey Mantle: young, charming, unlimited potential. But for one errant fastball from a journeyman pitcher, Tony C would be mentioned in the same breath as Williams, Yaz and Rice in Boston baseball lore. As it was, he was a dominating force for the first 4 years of his young career and set records that may never be broken. He was an inspiration for millions around Boston including a pre-teen X Dad who marveled at his promise. I'll leave the final words to Peter Gammons from his
de facto obituary in Sports Illustrated
over a week after Conig's passing: "
Today's young stars, so arrogant in their celebrity, should take a moment to think about Tony C, whose tragic life testifies to the fragility of human excellence.

"