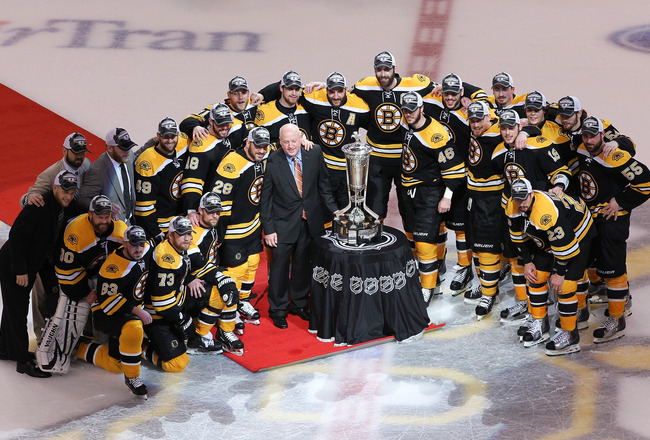 After my B's lost to the Flyers last year in one of the most epic collapses in sports history I made a vow to myself that I wouldn't get wrapped up in this shit again. The road to Lord Stanley's Cup seemed so wide open at the time. 3-0 series lead, all we had to do was win 1 out of 4 and we were in the Conference Finals. Then our hot young goaltender, Tuukka Time, remembered he was just a spring chicken and the series was lost. We all assumed that he was too young and stupid to notice the gravity of the moment, but really we mixed up our clichés and found out that Tuukka Time was too green and inexperienced to keep up with playoff hockey. Playoff hockey. There is nothing in this world quite like it.
My parents say that I could skate before I could walk. I'm pretty sure it's just a cute anecdote they use to speak of my love of the ice, but I'm not entirely ruling out its plausibility. When winter would roll around, I would come home every day after school, sling my Bauer skates over my shoulder and walk down to the town reservoir. It usually took at least a month from the first frost before the ice would freeze over enough to get on it, but I still went down to the water every day to sit and wait. They say a watched pot never boils, but if any of them took the time to watch a reservoir freeze, I'm sure the saying would be different. As the ice grew out from the shore, I would run through scenarios in my brain.
As much as I wanted to not care anymore, the 2010 offseason was shaping up to be an incredible one. Our Achilles heel the prior year was scoring. There were times where it would feel like our offense couldn't score on a soccer goal being defensed by an 8 year old girl. So Chiarelli did something about it. Before the draft, he traded one of our two first round picks to the Panthers for Nathan Horton, a dynamic young scorer trapped on a shitty team. Then, on draft night, Chiarelli sat back and waited for Tyler Seguin to fall into his lap with the second overall pick, which was obtained the year before in a brilliant trade with the Leafs for Phil Kessel. We were now blessed with two young offensive dynamos to go along with Marc Savard returning from his concussion and Old Man Recchi coming back for one last go around.
The scenarios started when we lost the '88 cup. I was but 4 years old, but the following winter I was on the banks of "The Res" imagining a world in which I was young Glenn Wesley (he was a lefty so he was my guy) shutting down the Great One and leading the underdog B's to victory. I was upset about that Cup loss, but with guys like Wesley, Ray Bourque, Ken Linseman, Craig Janney and Cam Neely on the team I just figured we'd be back plenty of times to get that Cup.
Even with the offseason additions and returns, I was still skeptical about opening my heart back up to this team. Then the puck dropped for the first time and all those years of wishing and hoping and praying flooded my soul and I was back in. Luckily, my unwavering support was rewarded early on. We jumped out to a 7-2-0 start and best of all the boys were scoring! As much as it seemed like we were close to winning it all last year, we were never dominant, we just got some lucky breaks and had a hot goalie. Now? Now we looked unstoppable. Mike Felger would tease Tony Maserotti on the Sports Hub that the B's fans were already lining up on Causeway for the parade, but it really felt like this would happen.
We returned to the cup just two years later, to again face the juggernaut Oilers. This time felt different though. Bourque and Neely formed the best defense/winger combo in the league and the unstoppable Gretzky was out in LA, the team now belonging to Mark Messier. My boy Wesley, just 19 during the last Cup run, was now a huge part of the team, having made the All Star team the year before. I was also signed up for organized hockey for the first time ever. I wore number 26, just like Wesley, and I pretended every opposing player was Wayne Gretzky and it was my job to stop the Great One. As great as things looked for the B's, the story remained unchanged. We lost to the Oilers 4-1 and I finally realized the weight of being a Bruins fan.
After the hot start, the team cooled off a little bit. Tuukka Time started to struggle so we had to lean hard on our former Vezina winner Tim Thomas. Then the team stopped scoring and it looked like we would have a repeat of last year. Horton was looking like a bust and Seguin couldn't get on the ice. Savard suffered another concussion and Recchi looked old. We no longer held the top spot in the conference; we were just another team. Had I made a mistake coming back to this team? If it felt like I had been cheated on the year before, now I had come back into the relationship wondering, "what was all the fuss about?"
Over the next decade, hockey and I had a complicated bond. It soon became evident to my young fragile mind that no matter what the B's did, they were doomed. We added Adam Oates. Didn't matter. We lost Neely to a broken down body, which was set in motion by that bastard Ulf Samuelson. Even our beloved Ray Bourque was released from our clutches to Colorado where he finally captured the coveted cup (alliteration!). Worst of all, we started missing the playoffs, which if you know anything about hockey, let alone as much as I do, you know this is nearly impossible to do. Everybody makes the playoffs. But we were falling short. I was also going through some things with my own hockey playing. I had great stick intuition and was a mean defender, but my feet were growing at an astronomical rate. This made skating increasingly difficult, and eventually they got so big I couldn't find skates that fit anymore. At just 12 years old, I had to give up my lifeblood.
We finished in 3rd in the East and lined up for a tough matchup with the despicable Canadiens. For those who haven't suffered through season after disappointing season with the B's like me, I have to tell you that there is nothing I hate more in this entire world than the Montreal Canadiens. They make my blood boil. They make me want to vomit on a baby deer. Thankfully, Ol' Timmy stood on his head just enough times and we beat those assholes in a nail biting 7 games. Then it was time to bust through recent history and face the Flyers again. We sprinted out to a commanding 3-0 series lead, which 99.9% of the time assures a series win. However, after experiencing that .1% the year before against the same team, fear ruled logic in Game 4. Fortunately, sensing our unease, the B's scored a dominating victory, 5-1, and the sweep was complete and some of our demons exorcised.
Losing the ability to play hockey and following a frustrating at best Bruins team put a huge damper on my fandom. I used to bleed black and yellow, but as I made my way through college the only things that were black and yellow were my overworked liver and jaundiced skin. In '02 we finished with the best record in the East behind our new young core of Joe Thornton and Sergei Samsonov, but we lost in the first round to the fucking Canadiens. Two years later, we had the second seed in the East, a young franchise goalie in Andrew Raycroft, and my cousin Patrice made a strong debut. Again, we lost to the Canadiens in excruciating fashion in the first round and Raycroft was terrible the next year and gone the year after that. In '06 we missed the playoffs again and traded franchise cornerstone Thornton at the trade deadline to San Jose, where he became the league's MVP. I was on the brink of destruction.
Reaching the Conference Finals felt like a major victory already. After heartbreaking early round losses this was a big step for the team. We were going up against a favored Tampa Bay Lightning, but I felt we had a great shot against them. I mean, hockey in Tampa? Come on, this was Original Six against Bettman's Bogus Expansion. By the grace of God, we had that red bearded wonder Tim Thomas and, like he had so often this season, guided his team to victory. We were going to the Stanley Cup finals to face the Vancouver Canucks! Holy shit!
I know it's silly to put so much into following a sports team. I mean, Tim Thomas doesn't care that I stay up nights replaying his best saves in my head and wondering if he can make the Hall of Fame despite having such a brief career on top. Players come and go and basically I just cheer for a bear head on a black sweater. But you know what? This means something to me. I love that I can walk into any bar in Massachusetts in May and nod my head at another dude with a beard and know that he grew that beard because the B's were making a playoff run. I love that the bro sitting next to me right now probably doesn't know Michelle Bachmann from Michelle Obama, but I bet he could tell me Milan Lucic's playoff plus/minus. The black and yellow bond us.
Last night, we won our first Stanley Cup in 39 years. This was for the generations of fans who never got to see the great Bobby Orr soar through the air. For all the fans who died never getting to see the B's hoist the Cup. The team fought harder than any other team and they deserved this victory. Even down 0-2, I always knew we would win it. Even the boos of the sore losers from Vancouver couldn't diminish the hugeness of this moment. At last, the B's are on top of the hockey world. Now I can die in peace.
Oh ya. Last night was the first hockey game I've ever watched start to finish and none of the personal stuff in this post is true. Just thought it would be fun to jump on the bandwagon like everybody else.