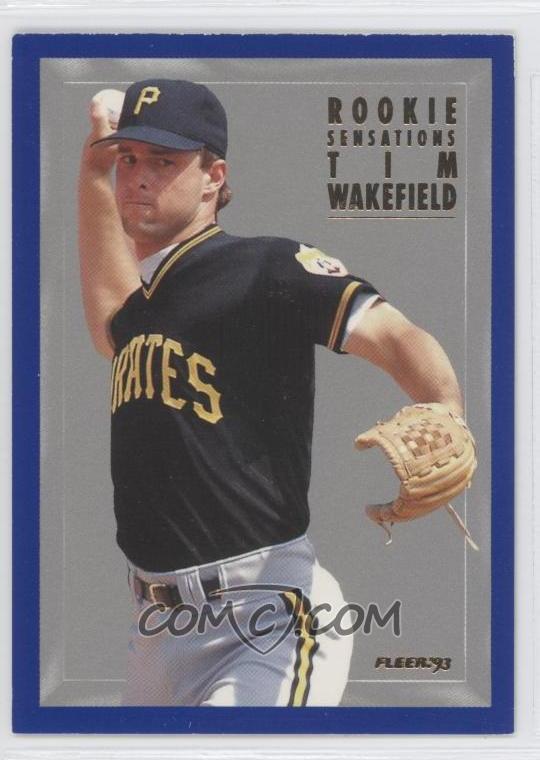 His first Red Sox start came on May 27, 1995, exactly one month after the start of the strike delayed season. He was picked off the minor league scrap heap on that first day of the season, released by the Pittsburgh Pirates, the team that had drafted him as an infielder and converted him to a knuckleball pitcher, just a week before. He had already won 14 games in his short career, but he was already 28 years old. You wouldn't have called him a prospect or a major free agent signing. You wouldn't have called him a lottery ticket or a building block. He was none of those things. Before his first start, he just was.
Boston's rotation at the start of that year was comprised of veteran journeyman Erik Hanson, rookies Frankie Rodgriguez and Vaughn Eshelman, reliever Rheal Cormier and budding star Aaron Sele. Former Cy Young and MVP Roger Clemens was on the DL until June. 22-year-old Rodriguez was soon replaced due to ineffectiveness by 34-year-old journeyman Zane Smith. Then on May 23rd, Sele left his start against Seattle after 4 innings with soreness in his elbow. He would not return that season. In his place the team called on the unknown.
That first start came against the California Angels (not Anaheim, Los Angeles, Los Angeles of Anaheim, Orange County, etc.). The Red Sox opened up a 2 run lead in the top of the first on a bases loaded single by Tim Naehring. In the bottom of the first, the knuckleballer took the mound for the first time with the "B" on his cap. Poetically, he walked Tony Phillips on 4 pitches (this is not as bad as it seems as Phillips led the AL in walks in '93 and '96). The next batter was Jim Edmonds. He struckout on a full count passed ball that allowed Phillips to get to second. The next batter, Tim Salmon, walked on a full count. After a Chili Davis flyout, J.T. Snow singled to drive in a run. It would be the only run allowed by the Red Sox starter on the day.
After the Snow single, the pitcher faced the minimum over the next 14 batters (an Andy Allanson single was erased on a double play). He finally exited the game at the end of 7 after a Damion Easly flyout with a runner on first and a 10-1 lead for the Red Sox. His final line on the day was 7 innings pitched, 2 walks (both in the first), 5 hits, 4 strikeouts and 1 run. It was his first win in a Red Sox uniform.
He wouldn't have to wait long for win number 2 (16 in his career), certainly nowhere near as long as he would wait 16 years later between win 199 and win 200. With injuries and ineffectiveness a major issue for this Red Sox team, the knuckleballer was sent out just 3 days later on very short rest, though for a knuckleballer this is not unheard of. Against the powerful Oakland A's, he was even better than in his debut. Over 7.1 innings, he allowed 2 hits and 1 walk while striking out 4. He gave up no runs and contributed to a 1-0 Red Sox victory. The minor league free agent was now a minor phenomenon.
His third start, against the mighty Mariners, came on regular rest, signaling that he was now a regular member of the rotation. How do you out-perform 7.1 shutout innings? How about with 10 innings and 1 unearned run in a complete game 2-1 win? He actually pitched 9 innings without giving up a single run. In the tenth, with runners on first and second, he fielded a Felix Fermin grounder, but the former infielder threw the ball away and allowed a run to score putting the Sox down 1-0 (I have a big problem with this run being called un-earned seeing as how the error was made by the pitcher). Luckily, his teammates picked him up in the bottom of the inning. With a runner on first and one out, Troy O'Leary blasted a homerun over the Monster to win the game, making the knuckleballer 3-0 on the season.
The fourth start came 5 days later against the A's again. He slumped a bit in this one: 9 innings and 1 run. He was now 4-0 with a 0.54 ERA.
His fifth start brought his first loss in a Red Sox uniform, a 5-3 loss to the (technically) defending champion Toronto Blue Jays. He was responsible for all 5 runs (3 earned) in 7 innings of work. His sixth and seventh starts both resulted in no-decisions in which he gave up 3 and 4 runs, respectively. His ERA shot all the way up to 1.72 and his record stood at 4-1.
In start number 8, he got back to his complete game ways. Just over a month after his first Red Sox start, he threw 9 innings with a Chris Gomez home run being the only run allowed. Start 9 was rockier (4 runs allowed), but he still went 8 innings to pick up his 6th win on the year. Then on his tenth start of the season, he pitched his first shutout in a Red Sox uniform against the Minnesota Twins. This start was significant because it was his final start before the All-Star break. In this time he was 7-1 with a 1.61 ERA for the first place Red Sox. His knuckleball and out-of-nowhere-story made him a local sensation. However, it was not enough to make it to the All-Star game (his one and only appearance would come 14 years later at the age of 42).
The second half of his season was not nearly as successful as the first. He would win his next 7 starts in impressive fashion, to stand at 14-1 with a 1.65 ERA leading to some serious, and well-deserved, Cy Young talk. Unfortunately, from August 18 until the final game of the season, he would go just 2-7 with a 5.59 ERA to finish the season at 16-8 with a 2.95 ERA, excellent numbers still, but by this point the bloom had come off the fluttering rose. He would finish third in the Cy voting to Randy Johnson (who deserved it) and Jose Mesa (who, as a closer, probably didn't deserve it).
Following the downhill narrative of his season, he saved his worst for last. In Game 3 of the newly created AL Division Series, with his team down 2-0 to the Cleveland Indians, he took the mound hoping to recapture the magic that accompanied his pitches from May until August. He opened the game by setting the Indians, including All-Stars Kenny Lofton and Carlos Baerga, down in order. He opened the second inning by getting All-Star and scary mother fucker Albert Belle to strikeout. Then a walk to Eddie Murray was followed by a homer from third baseman (I kid you not) Jim Thome.
The Indians pushed across another run in the third and were held scoreless in the fourth and fifth. The Sox scored a run in the fourth to make the game a manageable 3-1. Then in the sixth, the wheels came off. Murray singled to open the inning. After a Thome fly out, future Red Sox Manny Ramirez walked. Paul Sorrento came up next and singled home a run to make the game 4-1. Next up was Sandy Alomar Jr. who doubled to center to score Ramirez, making the score 5-1. The knuckleballer was done, and so were the Red Sox in the 1995 season.
Though the season ended on a sour note, Tim Wakefield became a Red Sox for life with that 1995 season. Wake created a legitimate frenzy in Boston in a season in which a lot of fans (my childhood barber Phil) were hesitant to come back to the sport. He had a great back story being a converted infielder. Though we only got a glimpse of it in '95, we would later learn that he was one of the few great guys in the sport (he won the Roberto Clemente Award last year). Plus Red Sox fans hadn't seen a knuckleballer in town since Wilbur Wood in the early '60's. And in 1995, 14-1 meant a lot more than it does today (today we would have noted his average strike out to walk ratio and .226 batting average on balls in play and say that he was lucky and due for the fall that ended up happening).
In his Red Sox career, Tim Wakefield has experienced a lot of ups (2 World Series, 200 wins, finally making an All-Star team) and plenty of downs (Aaron Boone). He has been a starter, mop-up guy, middle reliever and closer, sometimes all in one season. Though he has let his desire to stay in the rotation be known some years, he has mostly been a good soldier. He was able to pitch in the 2004 World Series, but was left off the 2007 roster, leading to the bro-iest moment of the year when Mike Timlin gave him a teary on-air tribute. In 2006, he signed a 1-year contract for $4 million dollars with an infinite number of team options attached because he wanted to be a Red Sox for life.
Tim Wakefield won his 200th game last night (on his 8th try). He is the 111th pitcher to do so, and probably all of those pitchers were better than Wake. He still sits 6 wins behind Roger Clemens and Cy Young on the all-time Red Sox win list and I would be surprised if he ever tops them. He is definitely not as good as those two pitchers. But the fact that a converted infielder, who made his first All-Star game at 42 years old, who never won more than 17 games in a season, who bounced in and out of the rotation, who succeeded exclusively with a dying art can be mentioned in the same breath as Clemens, Young and the other pitchers in the 200 wins club is just awesome. Though he has made my butthole pucker on many occasions, I am so happy that I got to watch Tim Wakefield pitch for 17 years. Congratulations on the milestone, Wake. Though I'm sure the only number you care about is 3. As in winning a third World Series.