Some last minute thoughts for today's game vs. San Diego

New England Offense vs. San Diego Defense
Running Game:
Watching NFL Live this past week, there was some hoopla about how the Chargers managed to hold Adrian Peterson under 100 yards rushing last weekend. While this is a rare and certainly admirable accomplishment, lets take a closer look. Yes, the Chargers did indeed hold Peterson under 100 yards. He gained 98. Meaning he could have laid down to gain that necessary 6 feet to hit the century mark. While 98 yards rushing for Peterson is a low total in respect to what we've come to expect from him; he managed to do so on only 16 carries -which averages out to be oh just 6.8 yards per carry. 6.8!! Did San Diego only have 8 guys on defense? While Takeo Spikes is a tackling machine in the middle of San Diego's 3-4, their D-line is suspect at best. Meanwhile, (justifiably) lost in last weeks offensive explosion was the fact that the Pats gained 108 yards on 22 carries (a respectable 4.8 YPC) against a much stouter Miami run D.


Advantage

-
Patriots
Passing Game:
After last weeks onslaught, it's impossible not to give this match up to the Pats- 517 passing yards will do that for you. However, as always, the key to this one will be protection. In last years match up vs. San Diego, Brady struggled (19 of 32 for 159, 1 TD), and more concerning, he was sacked four times. While San Diego's pass rush took a big hit losing juicehead Luis Castillo to a broken leg, they still have a strong pass rush led by Shaun Phillips - a player who Belichick quoted that it would be "suicide" not to account for in pass protection.

All that said, the main concerns in the passing game today is internal. As satisfying as last weeks victory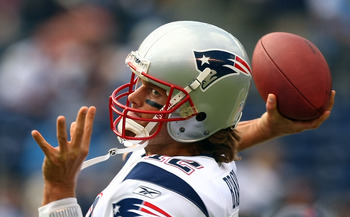 was, the importance of the loss of center Dan Koppen (broken ankle) can't be overlooked. While commentators rush to the front of the line to suck off QB's like Brady and Peyton Manning for all the pre-snap adjustments they make at the line of scrimmage, centers are left high and dry. For every audible that Brady or Manning makes, a corresponding call must be made by Koppen or Jeff Saturday (the Colt's center, one of the best in the business) to adjust the protection. I'm too lazy to look up the last time Koppen missed a game, but it was a long time ago. The Patriots plugged in one Dan (Connolly) for another last week and didn't seem to miss a beat; but how will Connolly handle the duties today given that the Chargers have had a full week to prepare for him (not to mention that he was pulled from the game vs. San Diego last year for poor performance at RG)? Add that to the fact that he'll be working side by side with Brian Waters, who has been with the team for all of 20 days, and color me concerned.

Another aspect not to overlook is the Shotgun snap. Koppen was always overlooked for the consistency of his Shotgun snaps, can Connolly provide the same? Fortunately the Pats have the best offensive line coach in the business (Dante Scarnecchia) so I think they'll be fine. However, if Connolly and Waters don't handle the Chargers pressure up the middle, this is where the game could be lost. Still -
Advantage - Patriots

San Diego
Offense vs.
New England
Defense


Running Game:
2nd year RB Ryan Mathews has proven to be nothing but hype to this point, however 5'9", 243 lb unheralded bowling ball Mike Tolbert is a force. San Diego's line is stocked with Pro Bowl caliber players - LT Marcus McNeill; LG Kris Dielman and C Nick Hardwick. But again, we have Big Vince, Fat Albert and crew.
Advantage - Patriots
Passing Game:
When Chad Henne looks like an All-Pro against your team, there is obviously plenty of work to be done. While I was pleased with the pressure that the D-line generated last week, the back end of the defense needs some time to come together.

Phillip "spoiled prep school kid with an atrocious throwing motion" Rivers has worked himself into one of the premier passers in the NFL, and he has no shortage of weapons to deliver his grotesque throws to. Vincent Jackson and Malcolm Floyd (both 6'5") provide the big targets for the down-field shots Norv loves to take. The Pats have had an influx of larger-than-average corners (6'1" Bodden & Ras-I, 5'11" McCourty) to replace the halflings that used to man the secondary (Hobbs, Wilhite, Wheatley, etc). Hopefully the new found size can minimize any long completions or pass interference calls. Ras-I played well in a surprise start last week, lets see if he can carry the momentum into today's game.

Of course, the Chargers offense starts with Antonio Gates. The best TE in the NFL is sure to be point of emphasis #1 in the Pat's defensive game plan this week. Virtually impossible to cover 1 on 1, the Pats will employ a combination of chipping him off the line of scrimmage, double teams, and a healthy does of cheap shots from Brandon Spikes cheap shots to limit the damage that Gates inflicts. One overlooked contribution that Gates brings to the Chargers is the way he opens up the receiving game for their Running Backs. In order to at least pretend to cover Gates, opponents are forced to double team him (usually with a Safety and Inside Linebacker). In doing so, they remove a defender that is traditionally used to cover Running Backs in the passing game. This leaves the RB's as safety valves for Rivers (Tolbert had 9 catches last week), so this is an area to keep an eye on.
Advantage - Chargers
P.S. - Watch Patrick Chung throughout the game. He's all over the field and is quickly becoming one of the better Safties in the league.
Special Teams
Much like the Dolphins, the Pats embarrassed the Chargers on Special Teams last year. San Diego also gave up a 103 yard Kickoff return for a TD to Percy Harvin last week. So, until proven otherwise
Advantage - Patriots

Prediction
When I first saw this game on the schedule, I was nervous. The more I've looked at the match ups and thought about it, the less concerned I've become. I don't see anyone on the San Diego roster that can match up with the Pat's Tight Ends and expect big games from both. The Gillette crowd is sure to be fired up for the home opener, and the team seems to be embracing their dedication of the season to the late Myra Kraft. If the offensive line can hold up, and the defense can play as well on 3rd down as the did last week (Miami was 2-14), the Patriots should hold up fine against a tough San Diego team.
Patriots 34 - Chargers 24