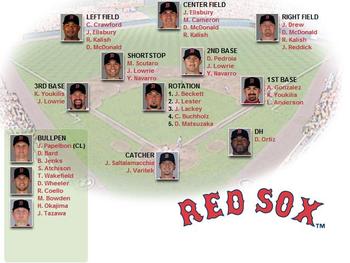 Last night, Ivan Nova and Doug Fister squared off in Game 5 of the AL Division Series for the Yankees and Tigers, respectively. Nova is the Yankees's rookie sensation who won 16 games, including 12 decisions in a row, and headed into the post season as the team's number two starter. Fister was picked up in a trade mid-season from the Mariners and proved to be the most important trade acquisition in baseball, stabilizing a shaky Detroit rotation by going 8-1 with a 1.79 ERA and 0.6 BB per 9 innings after the trade.
The results of last night's match-up are inconsequential to this discussion (but thank baby Jesus the Tigers won). The reason for highlighting these pitchers is because Red Sox fans and media have wondered why the Red Sox didn't have a pitcher from the minors like Nova or why they didn't make a trade for a pitcher like Fister, but instead threw out the likes of Andrew Miller, Kyle Weiland and Tim Wakefield in key September starts while the playoffs were slipping away.
Hypothesis
The Red Sox had as much depth as any other contender to fill in for reasonable amounts of injuries through call-ups and trades. As I stated in Part 1, the injuries the Red Sox had to face were more severe than the other contenders and therefore giving September starts to Miller, Weiland and Wakefield did not expose their lack of depth, it exposed the severity of their injuries. The Red Sox traded for solid players and called up a few promising prospects just like their counterparts, but were unable to overcome their significant injuries.
Trades
I have heard a lot of people question why the Red Sox didn't do more at the trade deadline to acquire starting pitching. The simple answer is that they did! With the clock ticking away on the deadline, the Red Sox acquired Erik Bedard from the Seattle Mariners. Granted, Bedard was coming off an injury and with his long history of injuries the move was a risk. Prophetically, he reinjured his knee in September and was unable to come back effectively. But did the team really whiff on anybody better?
There were 4 starters, including Bedard, who could be considered impact pitchers and were moved at the deadline and 2 pitchers the team supposedly had deals for that fell through.
Ubaldo Jimenez was the prize pitcher of this year's deadline. The Red Sox supposedly made tremendous efforts to get him, but at the end of the day they didn't have tandem pitching prospects to match Drew Pomeranz and Alex White and even if they did I would not have wanted them to give up that kind of package. Even if they were able to get him, he posted a 5.10 ERA with Cleveland so he would not have been much help.

Edwin Jackson was having a solid year for the White Sox before being traded twice in one day. He pitched well down the stretch and pitched a great Game 4 for the Cardinals a couple nights ago. But there is a reason Jackson has been traded 6 times in his 8 year career. He usually wears out his welcome with poor performance or poor attitude, two things the Red Sox did not need. Also, the Sox had nobody with near the value of Colby Rasmus besides Jacoby Ellsbury and I'm guessing nobody would want to make that trade.

Rich Harden was very nearly in Boston as there was a deal in place with Oakland for Lars Anderson. Ultimately, the Sox looked at his medicals and decided he would not be healthy enough to contribute to the team. It turns out they were basically right. In August and September, Harden made only 2 more starts than Bedard, but was way worse in his 10 starts than Bedard in his 8. In 6 August starts, Harden posted an ERA of 4.76. In September, that jumped to a 6.98 ERA over 4 starts. Harden would not have been part of the solution, he would have been part of the problem.

Hiroki Kuroda also nearly became a Red Sox, but he invoked his no trade clause to veto a deal that was supposedly in place. He pitched great down the stretch and would have been a HUGE addition to this rotation. But the man negotiated a no trade clause into his contract for a reason and it is his right to invoke it.

Finally, Fister was never rumored to be pursued by Boston. As a pre-arbitration eligible player he did not seem to be a prime trade candidate. Also up until this season he had been a fairly uninspiring pitcher. He posted some pretty small walk rates in previous years, but they were also accompanied by small strike out rates. He did not allow many home runs, but he pitched in Seattle where nobody allows home runs. At 27 years old he just seemed like a control pitcher who benefited from a huge ballpark and some great defensive teams. We have to tip our hats to the Tigers for seeing more in him, but we can't fault the Red Sox for not picking him up.
So the Red Sox did about as well as they could with what they had to offer. And in the starts that Bedard made besides his last 2, he was pretty effective.
Another point to make is that on July 31st, the Sox didn't really seem to need any more starters. This is what I wrote in my trade deadline preview:
Today let's start with the position that shouldn't be a need, but with injuries to Clay Buchholz, Jon Lester, Daisuke Matsuzaka and possibly Josh Beckett it could very well be a huge area of concern.(snip)

Theo should stand pat for as long as possible. It appears that the injuries to Lester, Buchholz and Beckett will not be too serious and that barring any new injuries they will all be healthy for the post season. Even with a couple of these guys missing another month or two, I think the Red Sox will at worst end up as the Wild Card because of their ridiculous offense. If it turns out that one of these three does have a serious injury, then he really needs to look at acquiring someone from the Deschanel or Peet groups. The key here is the playoff rotation; if they acquire someone who will play a role in the playoffs then it is worth it. Otherwise, I don't think anyone on this list (save for Jimenez and Garza) would push any of the Sox top 3 starters to the bullpen in the playoffs. In addition, I think Tim Wakefield, Andrew Miller, John Lackey, Felix Doubront, Kevin Millwood and Kyle Weiland are more than adequate to serve as 4th and 5th starters for the rest of the regular season.
At the deadline, we all thought Clay Buchholz would be back, but as I said, if one of the top 3 pitchers weren't going to be back, the Sox needed to trade for one of the pitchers I suggested, which they did (Bedard was in my Amanda Peet group).
I also said that the team had plenty of pitching out of the 4 and 5 spot to end up as the Wild Card. Here I was partially right. As 4th and 5th starters that group would have been fine. Unfortunately at one stretch in September, Lackey was 2nd, Wakefield 3rd, Miller 4th and Weiland 5th, which was completely unforeseeable at the deadline.
Finally, we have to remember exactly what the state of the race was on July 31. The Red Sox were in first place by 2 games over the Yankees. The next best record in the AL at the time was held by the Rangers and it was still 8 games worse than Boston. The Rays were 11 games back in the loss column. How many starting pitchers would you reasonably acquire with that type of lead?
I will make a concession here. In hindsight, the team probably should have acquired a bullpen arm. Daniel Bard was already being worked pretty hard and at that point Aceves hadn't emerged as the Swiss Army Knife he would become. The Rangers picked up two impact relievers at the deadline, but had to give up some major league talent that the Red Sox did not want to spare for a reliever. The Rangers went 1 for 2 in their trades as Koji Uehara suffered some serious gopheritis in Texas, but Mike Adams transformed the Texas bullpen into a scary weapon. The Sox could have made the same trades, but it is so hard to know with relief pitchers that it is probably best they stayed out of this market.
Minor Leagues


Craig Robinson of the entertaining site
Flip Flop Flyball
put together a
bunch of visuals
about the 2011 playoff teams for Grantland.com. One of his visuals shows how each player on the 8 playoff teams was acquired (draft, amateur free agent, trade, free agent, Rule 5 draft, waiver claim). Below is my best guess at what the Red Sox playoff roster would have been and how each player was acquired:
DRAFT (8 players): Jed Lowrie, Dustin Pedroia, Josh Reddick, Jacoby Ellsbury, Jon Lester, Daniel Bard, Jonathan Papelbon, Clay Buchholz
TRADE (8): Mike Aviles, Adrian Gonzalez, Jason Varitek, Jarrod Saltalamacchia, Josh Beckett, Erik Bedard, Andrew Miller, Franklin Morales
FREE AGENT (9): Marco Scutaro, David Ortiz, Carl Crawford, J.D. Drew, John Lackey, Alfredo Aceves, Dan Wheeler, Darnell McDonald, Matt Albers
If you didn't click through the link, I will let you know that the only teams with more players acquired through the draft than the Red Sox are the Rays and Cardinals. In fact, with a healthy Kevin Youkilis and if they wanted to substitute Ryan Lavarnway for Andrew Miller or Franklin Morales, the Red Sox would have had as many drafted players as the Cardinals. In addition, Alfredo Aceves, Darnell McDonald and Andrew Miller started this year or last year in the Red Sox minor leauges and Jason Varitek was acquired as a minor leaguer.
One argument might be that, yes, there are a lot of homegrown players on that list, but what have you done for me lately? Well, the longest tenured player on that list is Pap and he debuted in 2005. Lester came up in 2006, Pedroia, Buchholz and Ellsbury in 2007, Lowrie in 2008, Bard in 2009 and Reddick last year. So no player that debuted this year was going to be on the post season roster, but most of these guys were left off post season rosters in their debut year also. Lavarnway, Jose Iglesias, Weiland, Doubront and Anderson all debuted either this year or last year and each could play a role on future Red Sox playoff teams. The Yankees, Rangers, Tigers and Brewers were all without drafted rookies on their playoff rosters as well.
The legit argument here is where the hell are the home grown foreign born players? Notably, the Yankees had 5 of these such players including impact rookies Nova and Jesus Montero. Though Doubront and Iglesias made appearances this season, Doubront was not healthy enough and Iglesias simply was not ready. But beyond these two players, what else do the Red Sox have? Junichi Tazawa out of Japan, Chih –Hsien Chiang out of Taiwan (but used to acquire Bedard), Yamaico Navarro from DR (also traded, for Mike Aviles), Stolmy Pimentel from DR and Che-Hsuan Lin from Taiwan are the top foreign born players that played in AA or AAA this year. None of them appear to be stars and some may not make the majors. Supposedly they have some intriguing foreign born players in the lower levels, but these kids are teenagers and therefor hard to project realistically. The problem becomes magnified when you look at the Yankees graduating Nova and Montero this year and having Dellin Betances and Manny Banuelos ready to come up next year. Though it is disappointing to see a lack of young Dominican players, I would counter that the Red Sox are still producing excellent draft classes that far outshine what the Yankees do and that are not much worse than the Rays, while drafting in considerably lower slots.
Finally, the gripe over not having depth in the minor leagues seems to center around Ivan Nova (and Matt Moore and Jeremy Hellickson with the Rays, but in my opinion they are canceled out by producing Lester and Buchholz). Why were the Red Sox not able to call upon someone like Nova when all the pitchers got hurt? First of all, this is not a 1 to 1 comparison because Nova opened the year in the rotation, so he was never an injury replacement. Secondly, Nova was very lucky this season. Usually pitchers who strike out 5 batters per 9 while also walking 3 batters per 9 do not find much success, so I'm not exactly sold on his future. And third, Weiland, though he was a disaster in the Majors, had a comparable minor league track record to Nova only with more strike outs and more walks, so while he was not up to the task the way Nova was, one could have expected at least capable performance.

Conclusion


I think I have to say that my hypothesis was about 90% correct. The key to my hypothesis was a "reasonable amount of injuries", which, I think, in Part 1 I showed the team had an unreasonable amount of injuries.
Next, I showed that the Red Sox did trade for one of the better available pitchers on the trade market to guard against Buchholz not returning. That Bedard did not work out as they hoped does not mean they did not make the effort. Though they could have traded for a reliever, it is not clear that another reliever would have helped much at all. I didn't even bring up the fact that they traded for a super utility player in Aviles, who, despite some adventures on the base paths and at an unfamiliar third base, proved to be extremely valuable as a fill in for Youkilis, Scutaro, Lowrie and Drew. Aviles was probably the best back up infielder among contenders besides Michael Young (who is really a DH) and Theo Epstein did a great job acquiring him.
Then I looked at the help provided by the minor leagues. What I found was that in terms of home grown talent, the Red Sox are as good as almost any other team, despite not having an impact rookie this year. Injuries forced them to call upon Kyle Weiland and Jose Iglesias too soon and they were unable to answer the call, but this is not necessarily a failure of scouting and development. On the other hand, Reddick and Lavarnway made positive contributions this year and Navarro and other mid-level prospects allowed the team to make some needed trades. Where the organization appears to be in a rut is with its international scouting and development. If you want to find a flaw in the depth of the organization this season, that is where I will concede they failed.
A team can only plan to have so much depth. No team no matter how deep their pockets will have an All Star at every position, let alone an All Star to back them up. Every team, including the Red Sox, has to and usually is ready to cover up a certain level of injuries and had that threshold not been exceeded this year, it appears the club would have been fine. Unfortunately for us, the volume of injuries forced the team to dig deeper than any other contender to fill out an every day lineup and pitching staff. No amount of planning could have reasonably been ready for this.
Next, I will look into some individual offenders of the September collapse, starting with our beloved ace, Jon Lester...