Bill Belichick often say it takes about 4 weeks to know what kind of team you have (6 may be more accurate this year given the lockout, but whatever) - so on that note, here are some random NFL thoughts after the first quarter of the season.
* The biggest story of the season to date has to be the 4-0 Detroit Lions. The
Lions flashed their potential in a major way against N.E. in the pre-season; but that was only preseason. While I figured they would be a good team, I ultimately thought they were a year away from making the playoffs (I picked them to go 8-8 in an article that never got posted). Calvin Johnson has looked downright unstoppable and could give Randy a run for his money for the TD record. What's been most impressive is the lack of quit in these young pups (down by 24 at Dallas & 20 vs. Minny). With quite a few winnable games remaining on their schedule (Chicago twice, Minny, Denver, Carolina & Oakland, among others); the Lions have a legitimate shot at the playoff and should be fun to watch for the rest of the season.
* As good as Detroit may look, the road through the NFC North; and NFL for that matter; still g
oes through Green Bay. The Packers look to be by far and away the best team in the league. Aaron Rodgers has quickly staked his claim as the 2nd best QB in the NFL and has weapons galore. They have the least flaws of any team, and have yet to show any signs of a "Super Bowl Hangover". Apparently they didn't spend 3 months in Vegas celebrating their championship a la Paul Pierce.
* On the opposite end of the spectrum from Detroit, I'd like to congratulate the Philadelphia Eagles for winning this years "Washington Redskins Memorial May Super Bowl Champions" award. Every year the 'Skins make headlines in the off-season with big name signings and high hopes as Super Bowl contenders. And every year they suck. "The Dream Team" has looked like anything but so far this year. While they should still sneak into the playoffs, it's hard to see them living up to expectations.
* I understand the need to protect Quarterbacks/defenseless receivers to a certain degree, but the league has gotten out of control with these penalties. I've seen countless flags for personal fouls on plays where defenders use textbook tackling technique, or an offensive player ducks into an "illegal" hit to draw a flag. It's football. People are going to get hit hard. Save the penalties for blatant violations, otherwise, let them play. We don't want this NFL to turn into this.
* This one hurts: I wanted so badly for Cam Newton to be terrible. I wanted to laugh at Carolina for taking him #1 overall and having him be a complete bust. All sings pointed to him being Vince Young 2.0; supremely athletic but by no means a quarterback. Well so far I was about as close as a Donavon McNabb throw on that one. I guess that's what I get for not watching much college football. Of course 4 games is way too few to judge, and I'm not convinced he'll get much better from here; but still; ouch.
* Found this stat pretty interesting: Since the start of the 2010 season, BJGE has 14 rushing TD's, second in the NFL only to Arian Foster.
* Found this stat pretty funny (or depressing depending on how cynical you want t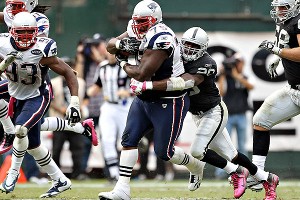 o be): Leading the Patriots in interceptions in Kyle Arrington with 3. Second on the team - Big Vince Wilfork. While that may not be shocking, this is - the 325 lb. Wilfork leads the team with 47 interception return yards, more than all of the other interception returns. COMBINED. (44 yards on 5 INT's to Vince's 47 on 2)
* After 4 games I have literally no idea who the favorite in the AFC should be. As frustrating as the Pats D has been to watch, every team in the conference has flaws. The two top competitors in the AFC for the Pats so far look to be Baltimore and Houston. I have about as much confidence in their QB's as I do that this article will get read by more than 10 people. Add in how injury prone the Texans have historically been, and the aging Ravens defense, and I'm not very concerned. Of course there's the Jets, but they've looked terrible to date and we'll get plenty more answers about them come Sunday. It may be tough to have much long term faith in the Pats given their last place D, but if you look around the league, things could be worse.
* If you like to look at the technical aspect of football or want a better understanding of how a play works, then ESPNBoston's Patriots blog has an awesome new weekly piece that is worth a look. Using screen shots, they break down the "Play of the Game" for each week and dissect the key match-ups within that play. This past weeks' edition for Stevan Ridley's 33 yard touchdown run is a fine example.
* Tom Brady is really, really good. So is Wes.