Every off-season, when the schedule is released, there is a stretch of games that stands out and you know after those games is when you will learn the true identity of the team. Last year it was the Pittsburgh through Jets Act 2 when the Patriots proved they were the class of the AFC (lets choose to ignore the playoffs for this exercise). For 2011, these next three - five games are that stretch. We should have a pretty clear picture after the following: at Pittsburgh, home for the Giants at the Jets; followed by a home game against the resurgent Chiefs and then on the road in Philadelphia. If the Patriots can go 4-1 over this stretch, they should be well positioned for the top seed in the AFC. It starts this weekend against a familiar foe, the one organization in the NFL that can come close to comparing to New England's resume over the past decade (although not really that close). Fresh off a bye week and with the return to health of a number of injured players, the Pats are in prime position to face a recently hot Steelers team coming back from a tough start to the 2011 season. Of course the Steelers are 0-2 when facing teams with winning records; their 5 wins coming against opponents that are a stellar 7-24 combined. The last time the Pats played in Pittsburgh on Halloween (in 2004) was also their last loss to the Steelers. Lets hope this time around goes a bit better.

New England Offense vs. Pittsburgh Defense
Running Game:
The Steelers have always fit the blue collar persona of their city; a team that thrives on running the ball and stopping the run as well as any team in the league. Their run D has certainly earned that reputation over the past few seasons; giving up an average of 3.4 yards per carry from 2008-2010. Not so in 2011. In their losses to Baltimore and Houston, Pittsburgh gave up a combined 350 yards on the ground (170 & 180 yards respectively). The Steelers are giving up 4.5 ypc to date this season, over a full yard more per carry than their dominant past 3 years. Don't get me wrong, it's not like they're terrible (they come in at 11th with 107 ypg), but it's not the Steelers D we're used to seeing. Unheralded DE Aaron Smith was placed on IR, ending his season. Smith is often overlooked amongst all of the big names on this defense, but he is (well, was) a vital part of their defense and one of the better run stoppers in the league. Pittsburgh will look to fill his role with Ziggy Hood (2nd year) and Cameron Heyward (Rookie, and a player I was hoping New England would draft and am interested in watching), two developing young players with positive early reviews from their coaching staff.

The Patriots hav
e also proven they are quite adept at running the ball so far this season. After dominating the Jets on the ground, New England followed up with 101 yards on 25 carries (4.0 ypc) against Dallas - who happened to b
e leading the l
eague by giving up barely over 60 ypg at the time. Balance has been the theme for the Pats over the past few weeks, and I look for that trend to continue on Sunday in Pittsburgh. Well at least enough to set up their play action passing (m
ore on that to come in a second).

Update: James Farrior - the Steelers leading tackler - is out for today's game, a huge plus for
the Pats running game.

P.S. - S.B.S. would like to give a warm welcome back to an all time favorite, Kevin Faulk.


Advantage

-

Patriots
Passing Game:
We all know the Patriots potent passing attack leads the NFL in yards per game and has looked virtually unstoppable for most of 2011.
It's usually pretty easy to just chalk this match-up up as advantage Patriots and move on; but not-so-fast this week. The Steelers just so happen to be the Patriots counterpart, leading the league in Passing Defense; so we get to see the best vs. the best (ok, I lied - Cleveland overtook them for the #1 spot by 0.4 yards/game last weekend, so their 2nd, but it sounded better that way). Brady has thrived passing the ball throughout his career against the Steelers, putting up a cool 350 yards in their last meeting.

The strength of the Pittsburgh D is their Linebackers. Lamaar Woodley, James Farrior, Lawrence Timmons and James Harrison compose what could easily be argued as the best LB corps in the league. Fortunately Harrison is out with a fractured orbital bone (ouch); but Woodley remains a major concern. He is currently 5th in the NFL with 7 sacks (5.5 over the past 3 games) and is one of the best all-around OLB's in the league.
And of course there is Troy Polamalu, one of the best safeties in all of football.
While I love the way Polamalu plays and respect his ability, I think he is overrated as a pass defender and can be exploited in coverage.
The Steelers are at their best when they can play in small spaces and Polamalu can play up to support the run, which is why
most of Brady's success against Pittsburgh has come by spreading the field with 4 or 5 WR's or off of play action. Given Pittsburgh's relative struggles with stopping the run this season look for the Pats to establish BJGE and Co. to keep Polamalu and the LB's honest and open up the play action game.

Games like this are where Gronk and Hernandez's versatility really come into play. The Pats can stay in a 1 RB/2 WR/2 TE set and force Pittsburgh to choose between staying in their base 3-4 defense to be stronger against the run or shift to a Nickle to better support pass coverage. If they chose to stay in their base D, that leaves either a LB or Polamalu to match up with the TE's, a very favorable match-up for New England. If they go with an extra defensive back, that weakens an already susceptible run defense.
Advantage - Patriots
Pittsburgh Offense vs.
New England
Defense

Running Game:
Typically the strength of the Steelers, their run game has struggled so far this season. Much to the chagrin of fantasy owners, Rashard Mendenhall has only one game of over 100 rushing yards this season, and four of under 50. He's averaging just 3.7 ypc and a dismal 2.9 ypc if you take out his 146 yard performance against Jacksonville. One large contributing factor is that the Steelers have had seven different combinations for their first string offensive line. Fat Albert has been practicing all week and Brandon Deaderick was actived off the PUP, and brings some added depth to a strong Pats D-line. Mayo is most likely to be on the field, another huge boost to the run D alongside the rapidly improving Brandon Spikes. Mendenhall is a threat to break off a long run every time he touches the ball, so limiting big plays will be the main concern in this aspect of the game today.
Advantage - Patriots
Passing Game:
While the Steelers may rank 1st in the NFL in Pass Defense; as for they Patriots; well they rank dead last. They've been improving over the past couple weeks, but some surprise moves this week have brought more doubt to the already struggling unit. On Wednesday, the team released veteran cornerback Leigh Bodden. Bodden had played on over 60% of the teams defensive snaps, and was the go to nickleback when opposing teams would have 3 or more WR's on the field. After that story was released, news shortly came out that rookie CB Ras-I Dowling was being moved to the IR, ending his season. This leaves the Patriots with only four CB's on their roster - McCourty, Arrington and unproven veterans Antwaun Molden and Philip Adams. All of this shouldn't help much against a talented Steelers passing attack.
First on the list of concerns today is Mike Wallace. Wallace is one of the most explosive players in the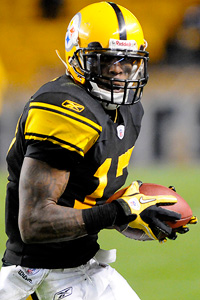 NFL
, a threat to score every time he touches the ball. Wallace has had a play of 40 or more yards in every single game
t
hi
s year aside from week 1 vs. Baltimore; highlighted by a 95 yard TD catch last week in Arizona. The Pats have a pe
nchant for taking away the opposing teams best player, and Wallace will certainly be priority number one. Look for him
to g
et "R
andy Moss Treatment" - man to man coverage, with safety help over the top (20+ yards off the ball) on all plays.
Hines Ward will be missing the game, but the Steelers boast plenty of depth at the WR position with Emannuel Sanders, Antonio Brown
and Pats killer Jerricho Cotchery.
Brown has shown some big play ability, and will be a capable replacement for Ward. Another player that can't be overlooked is Heath Miller. Miller is an underrated player, a solid all around TE and can pose a problem in the passing game. Today will be a good test to see how the secondary comes together after the bye week. I'm especially interested in seeing if McCourty can make any improvement and get back to last seasons form. The Steelers offensive line has struggled in pass protection, so the pass rush should be able to get to Roethelisberger - of course getting to him with pressure and bringing the big boy down are two different stories. All that said, there are too many changes in the secondary and Pittsburgh's passing game is formidable, so lets hope New England can minimize the damage.

Advantage - Steelers
Special Teams
:
Heinz field is always a tough place for specialists, as it often brings rough weather and strong winds.
Advantage - Patriots


Prediction:

The Pats are something like 865-2 when coming off of a bye and Brady clearly gets fired up when traveling to the Steel City. The team was able to get an extra day of practice in this week and prepare for an important long run AFC match up which bodes well for New England. If they can limit Mike Wallace and get to Ben a few times I think the Pats with relative ease.
Patriots
30 - Steelers 21