1)
Chicago White Sox
2)
Detroit Tigers
3)
Minnesota Twins
4)
Kansas City Royals
5)
Cleveland Indians
Explanation:
I'm driving the Chicago White Sox bandwagon. This lineup is LOADED. The ever-so underrated Juan Pierre and the lanky Alexei Ramirez will be towards the top of the lineup to set the table for the big boppers in Paul Konerko, Adam Dunn, and Carlos Quentin (my pick for AL MVP this year). You're talking about a LOT of power in this lineup. I previously mentioned how the 3-4-5 of the Texas Rangers was deadly, but
this one may rival it. Dunn moving to the bandbox that is U.S. Cellular is a virtual lock for 40 HRs. The pitching is rather deep, as well. Mr. Consistency Mark Buehrle and a talented lefty in John Danks lead a rotation that also includes Edwin Jackson and an injured, yet effective when healthy, Jake Peavy.
It's a toss-up between the Tigers and Twins for 2nd place in the AL Central. The Twins continue to win division titles with a less than stellar roster. It truly is amazing what Ron Gardenhire has done with such little talent. However, I don't see them finishing above the Tigers. Miguel Cabrera is an absolute beast. All the talk isabout Albert Pujols, but Miggy can certainly rival him as the best hitter in baseball. The newly-acquired Victor Martinez should provide a bit more pop to a lineup in dire need of some. The hard-throwing, swing-and-miss due of Justin Verlander and Max Scherzer should lead the rotation, as both should approach the 200 strikeout club this season.
The Twins don't do it for me this year. I think Joe Mauer is entirely overrated (
X Mark note: I heavily disagree with this statement. I intend to duel Odo to the death in the Midieval Times ring Cable Guy style. Or maybe just start a player debate series on the blog. Let's just go with the latter. Probably cleaner.
). Yeah, sure, the guy hits .330, but he does so with no pop. As a matter of fact, no one in the lineup aside from Justin Morneau has 30+ homerun potential except for maybe Jason Kubel. Furthermore, the rotation is crap after Francisco Liriano and even he has the dreaded injury flag planted all over him. A solid bullpen, assuming Joe Nathan comes back strong, but it'll be hard for them to be utilized effectively
without a decent rotation.
Kansas City will not finish last this season. They have a surplus of young talent and should be pretty fun to watch this year as current prospects and post prospects continue their outbreaks. The average baseball fan may not be able to recognize anyone in the lineup or rotation, but the Royals could be legit as soon as 2013
(see Devil Rays of 2008). They may not finish with a winning record this year, but playoff berths are possible as soon as 2013 with this young, talented organization.
Cleveland can't hit. Cleveland can't pitch. Cleveland does not rock. Sorry Drew Carey. Cleveland sucks. Worst team in baseball. Moving on!
Player to Watch Under 25:
Hehe stroke
Billy Butler, DH/1B, Royals, 24 years old
My pick to click this year is Billy Butler. It's only a matter of time before the doubles machine becomes a homerun machine. If he can develop as a bonafide power hitter in that young Royals lineup, then the march to 2013 may come a bit sooner. If you haven't noticed yet, I think the Royals could be a fun team to watch this year.
Honorable mention
: Gordon Beckham, John Danks, Chris Sale, Brent Morel, Dayan Viciedo, Chris Perez, Carlos Santana, Michael Brantley, Rick Porcello, Austin Jackson, Brennan Boesch, 5'6'' Tim Collins, Aaron Crow, Alcides Escobar, Delmon Young
10th Man: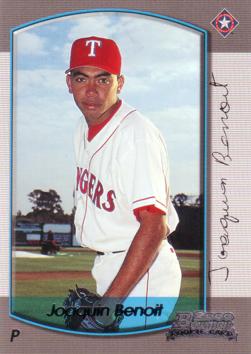 Joaquin Benoit, RHP, Tigers
He's not so much of a 10th man, but I think he's a major sleeper. Jose Valverde isn't the most consistent closer. I think by years end, you may see Joaquin Benoit in the closers role for the Tigers. He has closer potential and an immense arsenal of pitches.