1) Boston Red Sox
2) New York Yankees
3) Toronto Blue Jays
4) Baltimore Orioles
5) Tampa Bay Rays
Explanation:
Call me a homer, but the Red Sox will win the AL East in 2011. They have the
makings of a championship team and the roster is arguably better than the rosters of the 2004 and 2007 World Series Champions teams. The lineup is loaded with OPS machines in Kevin Youkilis, Dustin Pedroia, and Adrian Gonzalez. Speed is
scattered throughout the lineup with Carl Crawford and Jacoby Ellsbury. The only
glaring weaknesses are at shortstop and catcher. Marco Scutaro is more than suitable at short, however. The pitching staff is loaded, as well. The Sox have an ace, and possibly the best left hander in baseball, in Jon Lester. They have an ace in the making in Clay Buchholz. They have a former ace who is more than adequate as a number 2/3 in Josh Beckett. And then there's John Lackey and Daisuke Matsuzaka. WOOF! With a 7-8-9 inning trio of Bobby Jenks, Daniel Bard, and Jonathan Papelbon, the Red Sox could be playing many 6 inning games this year.
The Yanks are not too far behind. I don't care what anyone says about the pitching
staff, the Yanks are more than adequate to take down the Sox. All the naysayers can say all they want about the aging Jorge Posada, Derek Jeter, and Alex Rodriguez. The fact of the matter is that these guys know how to win. All the naysayers can say all they want about the shoddy rotation after C.C. Sabathia and A.J. Burnett, but I point
to you that the back-end of the Yanks rotation may not be too much worse (less
better?) than the Sox. Furthermore, the Yanks have the X-factor in Mariano Rivera. It's unreal how successful a career Mo has made it on one pitch and one pitch alone.
I'm high on Toronto this year and I'm not sure why. If they were in any other
division in baseball, we'd be talking playoffs for this team. The pitching staff is a little shoddy after Ricky Romero, but I expect big things from Kyle Drabek. Meanwhile, I like the bullpen depth. Toronto went out and did a major overhaul
bringing in John Rauch, Octavio Dotel, and Frank Francisco. The lineup has some
definite power with Adam Lind and Jose Bautista. I'm expecting a BIG bounce back year from the unlucky Aaron Hill, who had a PUTRID BABIP in 2010. We'll see some regression to the mean this year for Hill. Also, J.P. Arencibia may only hit for a .240 average, but he's a near lock for 20 HR with his immense power potential.
Baltimore is on the way up combining veterans with promising youngsters. I
like what Baltimore has done here. They have a surplus of young pitching in Jake Arrieta, Brian Matusz, Zack Britton, and Chris Tillman. Meanwhile, they have compiled a core of veteran players in Brian Roberts, Vladimir Guerrero, Mark
Reynolds, and Derek Lee. This team could definitely surprise some people in 2011.
The only thing that truly jumps out to me is how weak the bullpen is, but that's nothing new in Baltimore.
Call me crazy, but I don't see Tampa as a legit contender this year. Gone are Carl
Crawford and Matt Garza. Crawford was a staple towards the top of the Tampa lineup for nearly a decade. Desmond Jennings, a stud prospect, is labeled as the next Carl, but those are rather large shoes to fill. After Evan Longoria, I don't see much in that lineup. Manny Ramirez and Johnny Damon are players that will put fans in the stands, but are both nearing the ends of their career. Once again, however, Tampa has a number of talented prospects on the horizon ready to make a name for themselves at the MLB level (Jake McGee, Matt Moore, Wilking Rodriguez). Consider this my bold prediction of 2011.
Player to Watch Under 25:
Travis Snider, RF, Blue Jays, 23 years old
Come on down, Travis Snider!! Snider has flashed the potential to be a true slugger
at the Major League level and I fully expect him to make that jump this year. Each time he seems to have found a groove and figured things out, injuries have derailed his tempo and flow. Snider will become a formidable presence in that Toronto lineup this year.
Honorable mention: Jeremy Hellickson, Jake McGee, J.P. Arencibia, Brett Cecil, Kyle Drabek, Daniel Bard, Jarrod Saltalamacchia, Zach Britton, Matt Wieters, Chris Tillman, Adam Jones, Phil Hughes, Ivan Nova, Wade Davis, David Price, Reid Brignac, Evan Longoria (how is he still only 25!?!?!)
10th Man: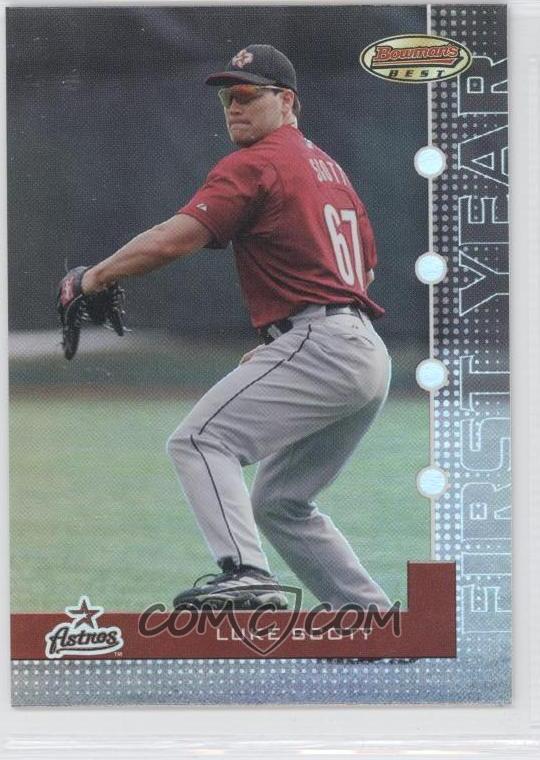 Luke Scott, DH, Orioles
I have been a Luke Scott fanboy since he was an Astro in the early to mid 2000s. I
have talked him up to my friends and fantasy league members for years. The guy can hit. Luke hits 30 HR this year.