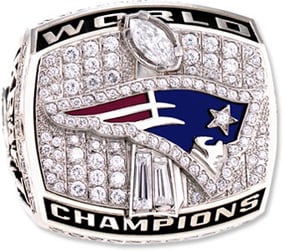 Ok people, time to get things straight around here.
Everyone, myself included, loves Sexy Boston Sports - and XMark and Odo are great writers – but honestly, how much can you read about baseball or Odo's golfing failures?
We all know there is only one sport that you truly care about.
As a matter of fact, news about how they might NOT even play football this year is still more exciting than your average Sox game.
M
ore importantly, there is one team within football that encompasses all that is good in the world.
Don't get me wrong, I love the C's, B's and Sox; but football had me at hello – so I'm here to talk about the Pats.
I emailed XMark about two weeks ago to ask for this lucrative position, and he was nice enough to oblige – but I had no idea where to begin.
My plan was to put together a piece on "The Brady 6" documentary; which by the way is required reading if you wish to join the list of my adoring readers; but I got busy.
Plus, I'll be doing plenty of fawning over The GOAT (that's Greatest Of All Time for you rookies) in this space once football returns so I'll spare you.
For now.
Seeing how the draft is about a week away, I figured I should start my writing career by trying to do the impossible – predict who Bill Belichick will draft.
I'm not going to do a mock draft; you have asshats like Mel Kiper Jr. for that.
The plan is to give you a roadmap of what to expect so I don't get 20 livid phone calls when the Pats draft another "Gunner" (that's what everyone was labeling McCourty after he was picked last year if you weren't aware).
I'm going to start here by reviewing each position and determine the need/likelihood of drafting a player from that position.
Throughout next week (for some reason I don't see myself caring enough to do a post over the weekend), I'll put together some possible targets for each position, and when I think the mastermind will be picking one.
So here we go:
Offense:
QB:
With the best QB ever signed through 2014 and a serviceable back-up in Brian Hoyer, there is no real reason for the Pats to draft a QB other than to challenge Hoyer.
Need- None
RB:
There has been a lot of talk about the Pat's picking a RB with one of their first 3 picks (specifically Mark Ingram), but I don't buy it.
Belichick has traditionally favored backs like Antwain Smith, Corey Dillion, Fred Taylor, etc..
Also, the success of Benny/Woodhead has shown that the team doesn't need a big name (read: expensive) back to have an effective run game.
As a matter of fact, they ranked 9th in the league last year (12th in '098th in '08) while relying on the aforementioned undrafted duo.
&
Belichick has only drafted 6 RB's in his 11 years with the team.
I think the team will address the position via free agency, with a possible mid-to-late round selection in the draft.
Need- Moderate
WR:
One of the harder positions to project, as there is plenty of depth, but the top options (Branch & Welker) are aging and only signed through next year.
The team clearly needs to groom replacements, but drafting WR's has not been Belichick's strong suit. Taylor Price has me excited and Brandon Tate has shown flashes of talent, but how does the team project them?
Another option to keep in mind considering we have about 200 picks in this draft – Belichick has never been shy about pulling off Draft day trades (Randy/Wes) for proven veterans at WR.
Need- Low to Moderate
TE:
After hitting big with FA signing Algernon Darius Crumpler as well as draft picks Gronk and Hernandez last year, they won't be drafting a TE.
Need- None
OT:
How early they pick one will depend on if they resign Matt Light, but at least one will be drafted.
It also depends on if the team views Sea-bass Vollmer as a future LT or if they see him more fit for his current role on the right side.
Need- Moderate to High
OG/C:
The interior offensive line is the biggest area of need in my opinion.
The always underrated Stephen Neal retired. Mankins is franchised again, but is very unlikely to be back with the team.
Center Dan Koppen is aging and FA after 2012.
Dan Connolly was a pleasant surprise last year, and while he may have him beat as a kick returner, he is not the beast that Mankins is.
Look for one G early, a C middle rounds and another G late.
Need- Very High
Defense:
DL:
Big Daddy Vince is the absolute man in the middle.
I should write a whole article on how important he was last year.
There are some question marks after him though.
Will Ty Warren be the player he once was after last year's hip surgery?
Will their best interior rusher, Mike Wright, ever return from his concussion? How many roster spots will be available with so many young prospects (Brace/Pryor/Love/Deaderick)?
There is still there need for a big-bodied RDE to fill Seymour's vacancy – I see one DE picked early and not much other than that.
Need- Low to Moderate
ILB:
This position is pretty well set – Mayo is one of the best in the league; Spikes is an HGH-fueled run stuffing machine; Gary "fastest linebacker at the combine" Guyton (copyright: The Ham) is replaceable, but good enough in pass coverage; and the immortal Dane Fletcher is a solid backup/special teamer.
Need- None
OLB:
This is the area that all of the analysts are calling for, and it's hard to disagree with them.
Jermaine Cunningham was impressive last year when healthy.
Bob Ninkovich aka Mike Vrabel 2.0 is almost as solid as his beard, but there is room for an upgrade.
Tully Banta-Cain and his one ineffective pass rush move (the $4.5 million bull-rush) need to be cut.
Eric "New Guy" (copyright:
Landies & Chappy) Moore did nothing but make plays in his short time with the team last year, but can he keep it up in Year 2? This is a huge need, and I'll go into much more detail what to look for next week.
Need- Very High
CB:
McCourty and Bodden make for the best 1-2 combo at corner the Pats have had in many years. Kyle Arrington played well for most of last year and is nice 3rd option.
Darius Butler played well for parts of last year and terribly for others.
Being a fellow UConn alumn, I'm prone to cut him some slack; but you have to figure he'll be under much scrutiny this year and fighting for a roster spot.
Jonathan Wilhite is my whipping boy.
Every year I manage to find a player that I hate, and blame them for anything & everything that goes wrong.
Wilhite is that man.
He always manages to be in good position against his receiver, but for some reason he just reallllllly loves to watch them catch passes.
It drives me insane to watch.
That coupled with his $1.5M salary next year leaves me hoping he will be cut.
The only real problem at Corner is that Patrick Chung was forced to play a lot of slot corner last year –he did a good job, but he is our best safety and belongs there.
This needs to be remedied, be it through a mid-round draft pick, or Bulter progressing into the player he has the skills to become.
Need- Low to Moderate
S:
This is the position I think the Pats may surprise people with and select one earlier than expected.
For what it's worth, Patrick Chung has developed into one of my favorite players to watch.
He's a relentlessly hard worker, and flies around the field at all times.
The other starting position has been a battle between James Sanders (fast forward to the 1:50 mark) & Brandon Merriweather.
Merriweather enters the last year of his contract, and even though he somehow made the Pro Bowl last year (I have literally no idea how, he was only the 3rd best safety on HIS OWN TEAM, not the whole AFC), is very unlikely to be re-signed.
While I would hate to lose his comedic value, I would love to see the Pats trade Merriweather and draft a ball-hawking Free Safety to compliment Chung.
It might not be the most likely scenario, but a girl can dream can't she?
Need - Low to Moderate
To Recap:
-
Football is better than every other sport, and Sexy Boston Sports now has me to cover it
-
The most important positions for the Patriots to draft are – OLB, Guard, Offensive Tackle, DE
- It's now 5 pm on Friday, go get drunk