1)
Atlanta Braves
2)
Philadelphia Phillies
3)
Florida Marlins
4)
New York Mets
5)
Washington Nationals
Explanation:
I think the Atlanta Braves are the best team top to bottom in the National League. The team added a second baseman with 35 homer power (Dan Uggla) to an offense that finished fifth in the league in runs scored last year. They feature a pair of 21 year olds in their lineup, one of whom (Jason Heyward) could finish the season as the best outfielder in the National League. They return essentially the same pitching staff that gave up the third least runs last season and have added a young left/right closing platoon in Johnny Venters and Craig Kimbrel that will allow new manager Fredi Gonzalez to match up well against any lineup late in the game. Add in my long standing Braves bias and I'd be crazy not to pick them to top the division.
Another reason for the pick is that something is not sitting right in my stomach about this Phillies team. Now maybe this is my continued attempts to force myself to like rice, but I really think I am on to something here. Yes, they have the "4 Aces" (which is not the best 4 man rotation of all time, check the 90s Braves before you bring that nonsense my way). But what do they have beyond that? I see two rapidly declining former MVPs in Ryan Howard and Jimmy Rollins. I see their best player, Chase Utley, sidelined until at least the All Star break with no reasonable backups behind him. I see a very average outfield that did a poor job replacing its top performer this year (Jayson Werth). I see a below average bullpen who's inconsistent closer is currently disabled. Add in the fact that 3 of the 4 Aces are in their 30s and the youngin of the group, Cole Hamels, has been anything but an ace as recently as 2009, and I don't see this team able to overcome its glaring lineup and bullpen weaknesses to be this dominant force they were supposed to be upon signing Cliff Lee.
Florida should be a fun team to watch this year. They feature the best US pitcher you have never heard of in Josh Johnson, 4 good young players in Mike Stanton (more on him later), Logan Morrison, Gaby Sanchez and Chris Coghlan, and the division's top player in Hanley Ramirez (flags fly forever, flags fly forever, flags fly forever, flags fly forever). I just don't see them having enough to overcome the very strong Braves and Phillies, even though they are a trendy sleeper pick.
The Mets. Ugh. What a craptasitc disaster this team has turned into. The offense is still pretty good as long as David Wright is there. Jose Reyes, Angel Pagan and Carlos Beltran provide support and Brad Emaus, a Rule V pick starting at second base, could be a nice surprise. Unfortunately their pitching is a mess. I recently came across an article saying Mike Pelfrey needs to step up to be the ace of the staff in the absence of Johan Santana. The guy with the 1.66 K/BB ratio. Good luck Mets fans. At least you have R.A. Dickey's knuckle ball and
Mr. Met
. Step right up and greet the Mets indeed.
The Nationals probably aren't as bad as people seem to think. They've got my current baseball man crush Ryan Zimmerman. A great beard (Jayson Werth) with a big contract playing right field. Jordan Zimmerman, no relation, coming back from surgery to hopefully reclaim the promise he showed in 2009 when he stuck out 92 batters in 91 1/3 innings before getting hurt. A nice young middle infield of Danny Espinosa and Ian Desmond. A player who may surprise a lot of people (including Jim Riggleman) in Michael Morse. And they even have a Hall of Famer! It is just not enough in this iteration of the NL East. The Natty Lights are a few years away from contention and maybe even respectability and their hopes hang on Stephen Strasburg and Bryce Harper, players whose combined age is 1 year older than their Hall of Famer (Pudge Rodriguez; he of the .294 OBP last year). At least they still have the cherry blosoms.
Player to Watch Under 25: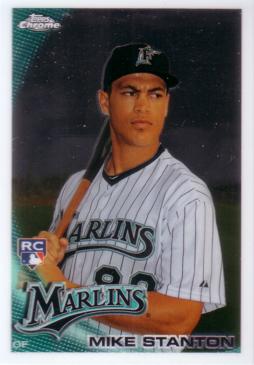 Mike Stanton, RF, Marlins, 21 years old
Jason Heyward has a chance to be the next Dave Winfield. Craig Kimbrel struck out 40 in 20 2/3 in his debut last season (that's a 17.42 K/9!). Domonic Brown is an enigma, wrapped in a riddle, wrapped in a mystery, wrapped in an ace bandage. Jordan Zimmerman is the potential yang to Stephen Strasburg's yin. So why am I choosing Mike Stanton as my "Player to Watch Under 25" in the NL East?
Because chicks still dig the long ball. Or maybe I do. Maybe I miss the days of multiple 50 home run seasons. Of long majestic flies. Of no doubters. Maybe I don't care that some of it was chemically enhanced. I love home runs. Stanton hit 43 total home runs last year between AA and the Majors. As a 20 year old. Try to think of your greatest accomplishment when you were 20 (mine was coming up with beer box wall paper) and then consider how absurd 43 home runs are. He has a lot of flaws in his game, namely strike outs, and may never develop into the sort of athletic, five tool player that people love. However, Stanton is absolutely Must See TV every time he comes to the plate if for nothing else than for the chance to see the longest home run of the season and to remember what you were doing when you were 21.
Honorable mention
: Heyward, Kimbrel, Brown, Zimmerman, Tommy Hanson, Freddie Freeman, Logan Morrison, Ike Davis, Wilson Ramos, Ian Desmond
10th Man:
Eric Hinske, Utility IF/OF, Braves
I think the Braves are the most well rounded team in the NL East and will edge the Phillies for the division crown. Unfortunately, their lineup, especially at the corners, is a youthful, inexperienced, house of cards held together by athletic tape. Chipper Jones is 38 and coming off a torn ACL sufferedlast August. Jason Heyward missed 20 games, played through many ailments, and already has a bad back this spring. Martin Prado is playing left field for the first time in his career. Freddie Freeman is a 21 year old rookie and didn't exactly set the minors on fire. Should any of these players slip (literally or figuratively), Eric Hinske could find himself smack dab in the middle of a hotly contested pennant race. The question is, is he up to it?
Eric Hinske is one of the best, if not the best, bench players in the NL. He can play 4 positions and handles the bat well, especially against right handers. Hinske has batted for his career .254/.336/.439, but hits righties at a slightly better clip. His 2010 season was right in line with his career totals so we can expect something similar this year.
The problem is that Hinske has not been a full time player since 2004. In seasons in which he registered stats similar to his career line, he received between 200 and 300 at bats. Add in the fact that he is a slightly below average defender at all corners but third, where he is solidly below average, and it is easy to see that Hinske is not equipped to be an everyday player at this point in his career. Therefore, as long as the Braves can keep him in his 200-300 at bat sweet spot, Hinske will be the NL's MVBW (Most Valuable Bench Warmer). Unfortunately if they rely on him to replace any of their starting options for extended time, the season could be a long one.